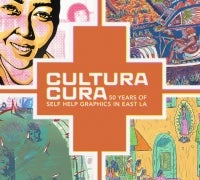 Cultura Cura: 50 Years of Self Help Graphics in East LA: Reception and Panel Discussion
Event
Location:
Special Research Collections
UCSB Library invites you to a public reception and panel discussion to celebrate the opening of Cultura Cura: 50 Years of Self Help Graphics in East LA, a new exhibition featuring prints and ephemera from the Self Help Graphics & Art Collection in the Library's California Ethnic & Multicultural Archives (CEMA). Self Help Graphics & Art is an LA-based organization that fosters the creation and advancement of new art works by Chicana/o and Latinx, and other BIPOC artists through experimental and innovative printmaking techniques and other visual art forms.

4:00–4:45 PM: Visitors are encouraged to arrive early to visit the Day of the Dead altar on display in the Library's Ethnic & Gender Studies Collection (2nd Floor, Ocean Side). Students from UCSB's Las Maestras Center will be in the space to talk about the altar they created.

5:00 PM: Reception and panel discussion in the Library's Special Research Collections (3rd Floor, Mountain Side) begins.  
Moderator: Angel Diaz, the Curator for CEMA and the Interim Director of Special Research Collections at UCSB Library will moderate the panel discussion.
Panelists:
Marvella Muro is the Director of Artistic Programs and Education at Self Help Graphics (SHG) in Los Angeles. Prior to joining SHG, she was the Community Engagement Manager at the Los Angeles County Museum of Art, developing and executing art programs with community partners, artists, and social service groups in the neighborhoods of East Los Angeles, Compton and North Hollywood.
Linda Vallejo is an American artist known for painting, sculpture and ceramics, creating work that visualizes what it means to be a person of color in the United States. She states that these works reflect what she calls her "brown intellectual property"—the experiences, knowledge, and feelings gathered over more than four decades of study of Latino, Chicano, and American indigenous culture and communities.
Phung Huynh is a Los Angeles-based artist and educator whose practice includes drawing, painting, public art, and community engagement. Her work challenges beauty standards by constructing images of the Asian female body vis-à-vis plastic surgery to unpack how contemporary cosmetic surgery can whitewash cultural and racial identity. Her work of drawings and prints on pink donut boxes explores the complexities of assimilation and cultural negotiation among Cambodian and Vietnamese refugees who have resettled in the United States. 

About CEMA
The California Ethnic and Multicultural Archives (CEMA) is a permanent program in the Special Research Collections Department of the UCSB Library. CEMA advances scholarship in ethnic studies through its varied and unique collections of primary research materials, which document the lives and activities of African Americans, Asian/Pacific Americans, Chicanos/Latinos, and Native Americans in California. The collections represent the cultural, artistic, ethnic, gender, and racial diversity that characterizes the state's population. CEMA materials are widely used not only by scholars but also in K-12 classrooms and museum exhibitions. Organizations and individuals have committed to establishing their personal papers and archival materials for preservation and to be made accessible for research and study.
Learn more at https://www.library.ucsb.edu/special-collections/cema.