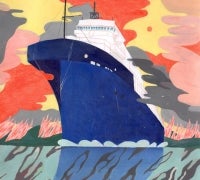 Oceanography in the Thomas Fire: Preliminary Results from a Graduate Student Led Expedition
Event
Location:
Pacific View Room
The UCSB Library presents a talk by Kelsey Bisson (Geography) and Eleanor Arrington (Earth Science), PhD candidates in the UCSB Interdepartmental Graduate Program in Marine Science, to be followed by a public reception.
This talk will describe the planning and preliminary results from a student research expedition that took place in the Santa Barbara Channel in December 2017 during the Thomas Fire. This trip was funded from the UC Ships Funds program and is the first time in the program history that UCSB students received the award. The overall goal of the cruise was to collect observations and conduct experiments to understand how the Santa Barbara Channel changes over the course of a day. The ship's team included three artists (musician, videographer, illustrator) to render the science in ways that are compelling, fun, and informative. Three weeks prior to the expedition's departure the Thomas Fire ignited. Coupled with persistent offshore winds, the fire created a plume of smoke, ash and soot that extended greater than 1000 km offshore, intermittently inundating the Santa Barbara Channel study site with ash. This unfortunate circumstance presented a unique opportunity to study the real-time investigation of the impact of ash deposition on the biogeochemistry of the coastal ocean. Here, they will highlight their preliminary results, showcase some of the artistic products, and discuss next steps for both the daily cycle and ash components of the expedition.
The Pacific Views: Library Speaker Series is co-sponsored by the Office of the Executive Vice Chancellor.
Illustration by Celia Jacobs.