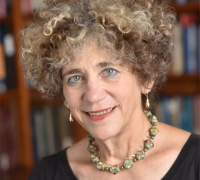 Modeling Interpretation: Propositions for Visualization in Digital Humanities
Event
Location:
DREAM Lab
The UCSB Library presents a public talk by scholar and artist Johanna Drucker.  Drucker's talk is co-sponsored by Transcriptions (UCSB English).
What are the specific ways in which visualizations could be modified to engage interpretative methods for digital humanities? Drucker's talk assesses the challenges of appropriating visualization methods from natural and statistical sciences for use in digital humanities, and outlines a set of proposals for alternatives. The proposals are based on theoretical principles that assert the historical and cultural conditions of knowledge production as a foundation for thinking about the connection between computational analytics and graphical expressions.
Drucker, the inaugural Breslauer Professor of Bibliographical Studies in the Department of Information Studies at UCLA, is internationally known for her work in the history of graphic design, typography, experimental poetry, fine art, and digital humanities. In addition, she has a reputation as a book artist, and her limited edition works are in special collections and libraries worldwide, including UCSB Library.
Drucker's presentation will be followed by a reception.