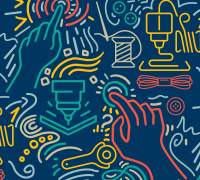 Thu, 01/18/2024 -

10:00am

to

3:30pm
Event
Location:
Makerspace
We are thrilled to announce the official launch of the UCSB Makerspace, a cutting-edge hub for innovation and creativity. Open to all UCSB students, faculty, and staff, this collaborative space is equipped with state-of-the-art tools and resources to bring your ideas to life. Join us for a week-long celebration from January 16th to 19th, featuring guided tours, new interactive workshops each day, and hands-on experiences with our top-of-the-line equipment. Space is limited for tours and workshops, so be sure to register in advance through Shoreline. To ensure equal opportunities for all users, kindly register for only one workshop and one tour. Come, be inspired, and let your creativity soar in the UCSB Makerspace!

Schedule of Events - Thursday January 18th
Button Making Marathon - 10:00am - 12:00pm


In the spirit of the UCSB Reads 2024 Book Giveaway, come experience your brain on art after you've picked up your book copy! Learn how to use the button maker to create custom pins that will show off your creativity.
Please feel free to drop by at any point during the event! Registration is not required for this drop-in workshop.

Lunch Hour Workshop: Simple Style Upgrades - 12:00pm - 1:00pm


Elevate your style with simple sewing techniques! Join us for a hands-on session where you'll learn about how modern technology is making it even easier to create handcrafted accessories. Learn the art of rolled hems and add personalized touches to create a stylish five-point scarf. 
Before attending, please enroll in our Canvas course and complete the Canvas Introduction Module which includes important safety information. 
The maximum capacity for the workshop is 10 people. Register on Shoreline.

Tour the Makerspace - 3:00pm - 3:20pm


See the Makerspace during our Grand Opening Week! Learn about the new resources available to UCSB students, faculty, and staff.
The maximum capacity for each tour is 15 people. Register on Shoreline.