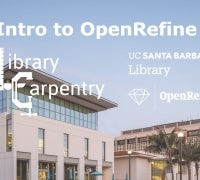 Thu, 04/14/2022 -

2:00pm

to

6:30pm
Event
Location:
Online
This event is an online, one-day, example-driven workshop on April 14, 2022 for an introduction to using OpenRefine.  OpenRefine is an open-source tool that runs inside of a web browser.  It is used for working with messy tabular data and is applicable to all sorts of practical challenges that data scientists face regularly.  There is no prior programming knowledge required.
Dates:  This event runs on April 14, 2022 from 2:00 pm - 4:00 pm, online
Prerequisites:  There are no prerequisites for this workshop.
Registration Period:  March 21 to April 11, 2022
Workshop page and Link to registration: ucsbcarpentry.github.io/2022-04-14-ucsb-openrefine/