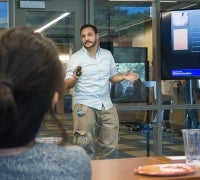 January Lunch & Learn: Data & Death
Fri, 01/21/2022 -

12:00pm

to

1:15pm
Event
Location:
Online
Join us for Lunch & Learn, where you'll have the chance to socialize with other grad students and hear talks by students in Environmental Studies and Religious Studies. Lunch & Learn is co-sponsored by the Graduate Division, the Graduate Student Association, and the UCSB Library.
While we won't be able to share pizza together in person, all attendees will be entered into a raffle to win a $15 Target gift card.
January 21, 12-1:15pm
Zoom*
*RSVP here to receive the Zoom link*
Presentations: 
STEM Talk: When Small Data is Big: An Epistemological and Methodological Turn
Elisa Privitera, Fulbright visiting research student with the Department of Environmental Studies
In the current era, increasing interest is given to Big Data to construct knowledge and to tackle the environmental crisis. However, this may not be enough. In this talk, I will discuss both the epistemological and methodological reasons why "Small Data is Big". Small data are discrete, specific, and personal information that are embedded into the human and more-than-human bodies and stories. They arise through emotional and sensorial experiences. For this reason, they require fieldwork and direct interaction between the researcher and the context. I will explain how small data can be even more effective and needed in all those places that can also be defined as risk landscapes, in which the environmental transformations have occurred slowly throughout time and diffused in space due to industrial contamination.
SHEF Talk: Dying Without Religion: Secular Death and Other Rituals
Courtney Applewhite, Religious Studies
In 2021, the General Social Survey indicated that 28% of people in the United States are not affiliated with any religious tradition. As a result, fewer people are part of institutions that facilitate life cycle rituals like christenings, weddings, or funerals, holidays, and more mundane daily rituals. In this presentation, I will present data from the Secular Communities Survey and ethnographic research that demonstrate the way in which nonreligious people are creating and participating in rituals that intentionally remove religion. In particular, I will focus on contemporary rituals associated with death and dying.