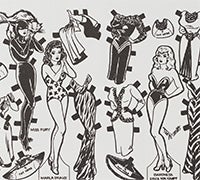 In Her Own Image
Thu, 02/14/2019 - 8:00am

to

Mon, 08/19/2019 - 5:00pm
Exhibition
Location:
Art & Architecture Collection
How do female comic book creators represent female characters in body and mind?
In conjunction with UCSB Reads 2019, UCSB Library is pleased to present an exhibition that explores and celebrates female comic book creators and their works. Materials are drawn from UCSB Library collections.  There will be an event on Monday, February 4 previewing the exhibition.  
Curated by UCSB librarians Chizu Morihara and Leahkim Gannett.
Image credit: 
Tarpé-Mills, J.(writer/illustrator). Miss Fury : Sensational Sundays 1944-1949, 2011.
UCSB Library call number: World Comics Collection, PN6727.M5955 M52 2011