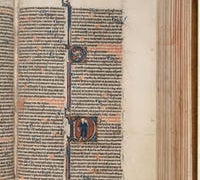 Mon, 05/23/2011 - 8:00am

to

Fri, 07/15/2011 - 10:15am
Exhibition
Location:
Special Research Collections
Twenty-seven rare books and manuscripts from the 13th through 17th centuries trace the history of the modern Bible, from its beginnings as a series of partial manuscripts to the single volume format that exists today. The exhibit is curated by Sharon Farmer, professor of history at UCSB, and six UCSB undergraduate students.
For more information, see the Office of Public Affairs press release.
A conference relating to the exhibition will take place at 1 p.m. on Friday, May 27, in the McCune Conference Room, 6020 Humanities and Social Sciences Building at UCSB. It is free and open to the public. See the Medieval Studies website for more information.
Image caption: Santa Barbara Bible, 1250