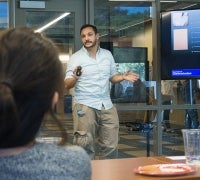 February Lunch & Learn: Superconductors & Sects
Fri, 02/18/2022 -

12:00pm

to

1:15pm
Event
Location:
Online
Join us for Lunch & Learn, where you'll have the chance to socialize with other grad students and hear talks by students in Electrical and Computer Engineering & Theater, Dance, and Performance Studies. Lunch & Learn is co-sponsored by the Graduate Division, the Graduate Student Association, and the UCSB Library.
While we won't be able to share pizza together in person, all attendees will be entered into a raffle to win a $15 Target gift card.
January 21, 12-1:15pm
Zoom*
*RSVP here to receive the Zoom link*
Presentations: 
STEM Talk: Computing Forecast: Colder Days Are Ahead
Jennifer Volk, Electrical and Computer Engineering
The technology we currently use to meet our computing demands transports information in a way that is slow and generates a lot of heat. To accommodate tomorrow's computing needs, we will need an alternative that offers a solution to these aspects. However, such a technology promises a departure from conventional ways that we treat data, which creates difficulty for its widespread adoption. In this talk, I will discuss why superconductor electronics — which operate at very cold temperatures — fit the bill; consider some of the obstacles that limit its utility; and show my solutions to them.
SHEF Talk: Routing Ranters: Affect, Historiography, and the Performatives Associated with a Radical Sect in Seventeenth Century England
Grace Kimball, Theater, Dance, and Performance Studies
Although many may consider the early modern archive to be impossibly incomplete, I believe that using affect and historiography can help fill in the gaps. My focus on the Ranters, a seventeenth century English political and religious group, illustrates how performatives may be misread because of the strong responses towards such radicalism and what we can do with these potentially inaccurate remainders. By identifying the difference between record and reality, my case studies on anti-Ranter materials emphasize how and why these reactions and sometimes intentional alterations may skew the documented archive.