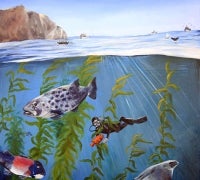 Explore National Marine Sanctuaries of the West Coast
Tue, 07/23/2019 - 8:00am

to

Sat, 10/19/2019 - 5:00pm
Exhibition
Location:
Ocean Gallery
UCSB Library is pleased to partner with the National Oceanic and Atmospheric Administration (NOAA) office on UCSB's campus to showcase these
paintings by Andrea Fisher
. Fisher's paintings are inspired by her visits to five national marine sanctuaries along the West Coast where she met with researchers, indigenous peoples, fishermen, industry representatives and visitors.   
The National Marine Sanctuary System, a division of NOAA, consists of 14 federally protected U.S. marine areas.  Its goal is to protect America's most iconic natural and cultural marine resources, and to work with partners to promote responsible, sustainable uses that ensure the health of our most valued ocean places.
Here at UCSB, a unique partnership connects the university community to the Channel Islands National Marine Sanctuary, a 1,470 square mile area surrounding five islands. Professors and students from UCSB's Marine Science Institute and Department of Ecology, Evolution and Marine Biology regularly work alongside NOAA staff at their main office in the Ocean Science Education Building, or aboard two sanctuary research vessels. Students from the Bren School help solve conservation management issues while students at the School of Engineering apply high tech tools to monitor sanctuary waters. 
About the artist
Andrea Fisher worked with NOAA's National Marine Sanctuaries West Coast Regional Office and Marine Protected Area Center in Monterey, California while a student at the Middlebury Institute of International Studies in Monterey, California (MIIS).  Her work was made possible by a fellowship from the Center for the Blue Economy at MIIS. Andrea received her master's degree in Coastal Resource Management from MIIS in December 2018.