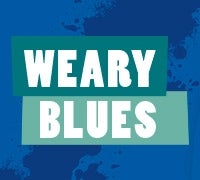 Weary Blues: Poetry and Jazz from Langston Hughes
Mon, 06/01/2015 - 8:00am

to

Fri, 12/11/2015 - 5:00pm
Exhibition
Location:
Art & Architecture Collection
In the margins next to a section of the poem "Ode to Dina" from Ask Your Mama: 12 Moods for Jazz, Langston Hughes wrote the following directions for the jazz musicians who, in his vision of the 12-part epic poem's performance, were playing along:
"Drums alone softly merging into the ever-questioning 'Hesitation Blues' beginning slowly but gradually building to up-tempo as the metronome of fate begins to tick faster and faster/ as the music/ dies/ TACIT" – Ask Your Mama: 12 Moods for Jazz, 1961
Hughes died before Ask Your Mama: 12 Moods for Jazz was performed as he imagined it, but a recent multimedia presentation of The Langston Hughes Project / Ask Your Mama: 12 Moods for Jazz at UCSB's Multicultural Center in January 2015, under the direction of Dr. Ron McCurdy, brought Hughes' original vision to life. A CD recording of the performance, displayed here, is now available in the Music Library.
Inspired by the recording and recent performance, this exhibition contains UCSB Library materials from the Music, Art, Black Studies, and Special Research Collections, as well as posters and fliers for The Langston Hughes Project from McCurdy's personal collection. These materials showcase and honor Hughes' lasting contributions to American culture.
With his ebony hands on each ivory key/ He made that poor piano moan with melody./ O Blues! — The Weary Blues, 1926
This exhibition was curated by Kyra Folk-Farber, Assistant Music Librarian and Evolving Workforce Resident at UCSB Library.
Additional information and reading lists