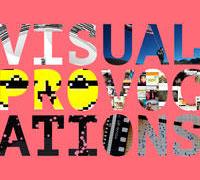 Visual Provocations
Wed, 04/27/2016 - 8:00am

to

Thu, 06/09/2016 - 5:00pm
Exhibition
Location:
Interdisciplinary Research Collaboratory
Exhibition by an interdisciplinary group of six UCSB students in the Department of Film and Media Studies class "Data Visualization as Media Praxis."
Visual Provocations presents a rich visual exploration of contemporary trends in data, culture, and aesthetics. Created by an interdisciplinary group of six graduate students at UC Santa Barbara, Visual Provocations begins from a shared interest in media praxis, a knowledge production framework that joins the disciplinary commitments of critical media studies with a conceptual art practice in film and media production. In this iteration, students have produced data visualizations to generate new understandings of how culture is made, lived, and contested in the digital moment. Drawing on data that describe a range of topics from recent trends of independent media production to the emergence of global activist networks, the exhibited creative works illuminate otherwise elusive alliances, ruptures, and infrastructures that appear, often unexpectedly, within a variety of cultural sites.