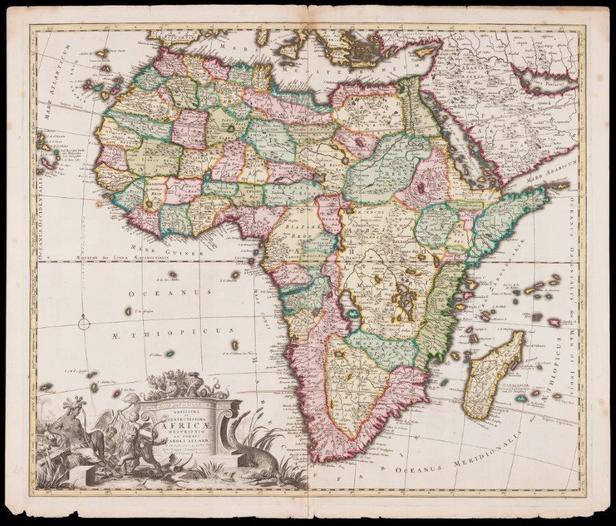 Novissma et perfectissima Africae descriptio / ex formis Caroli Allard. Amsterdam: s.n., 1690?
Hand-colored with fanciful creatures and features.
Maximus Collection

A New and Correct Map of Africa: Drawn from the Mot Approved Modern Maps and Charts, and Adjusted by Astronomical Observations; Represented also the Course of the Trade Winds, Monsoons, etc./Emanuel Bowen. London?: s.n., 1748.
Maximus Collection

Nigerian Musical Instruments.
Collection of David C. Tambo
Gallotone, GE 1137T, 1949.
Hugh Tracey was on of the first Europeans to appreciate the social and artistic value of African music. With financial help from Eric Gallo of Gallo Records in Johannesburg, Tracey traveled southern and central Africa with a mobile recording unit from 1947 onwards recording amateur musicians. The resulting discs were some of the first recording of African music marketed to Africans. Tracey recorded these Chiwele dance songs for the Gallotone label in 1949 in Portuguese East Africa (P.E.A.), now Mozambique.
Performing Arts Sound Collections

Gallo New Sound, GB 2958, 1959.
Miram Makeba was a prominent South African singer who rose to fame as part of the all-female vocal group The Skylarks in the 1950's. In 1958 she appeared in the anti-apartheid film Come Back, Africa, which was accepted to the Venice Film Festival the following year. Before leaving to represent the film at the festival she recorded several final tracks with the Skylards, one of which was "Miriam's Goodbye to Africa." Little did she know that because of her anti-apartheid activities, she would be denied re-entry to South Africa and stripped of her citizenship. She was not allowed to return until 1990.
Performing Arts Sound Collections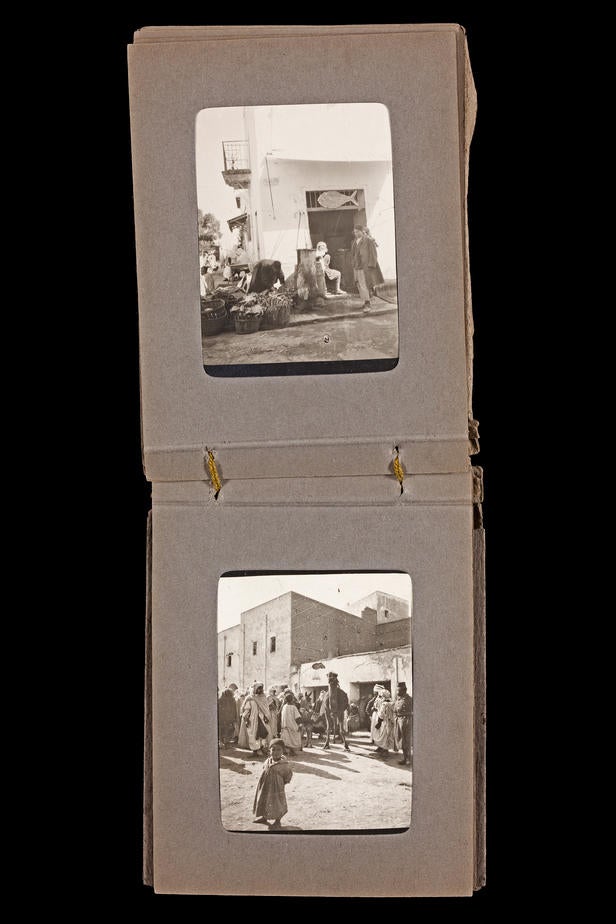 Arthur London/Gold Coast (Ghana) Photograph Collection.
Photo 1: Kumasi market, Dec. 13, 1910.
Photo 2: Royal procession on Kumasi's main street, Apr. 1, 1911.
Bernath Mss 315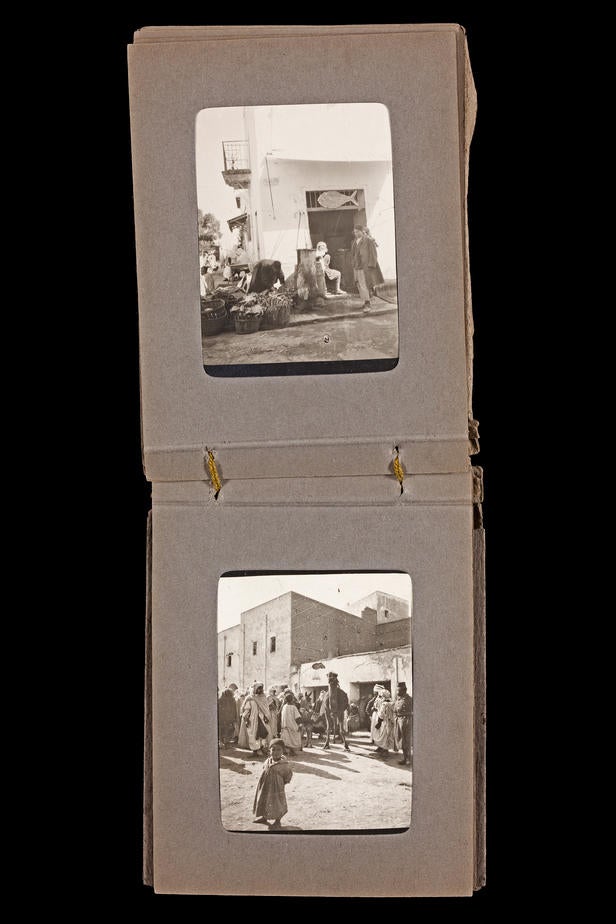 Enzo de Chetelat Papers.
Photos, 1931-1932, of Foula (Fulani) men and women from French Guinea (now Guinea), one (upper right) weaving narrow strips of cloth on local loom.
Bernath Mss 316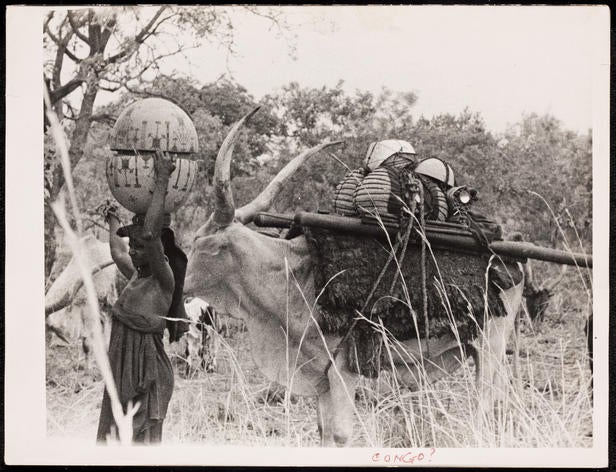 Africa Tour Photograph Collection, ca. late 1940s-1950s.
Photo 1: Musician playing xylophone in French Equatorial Africa.
Photo 2: Cattle as pack animals (in Cameroons?) – note carved calabash containers.
SC 1018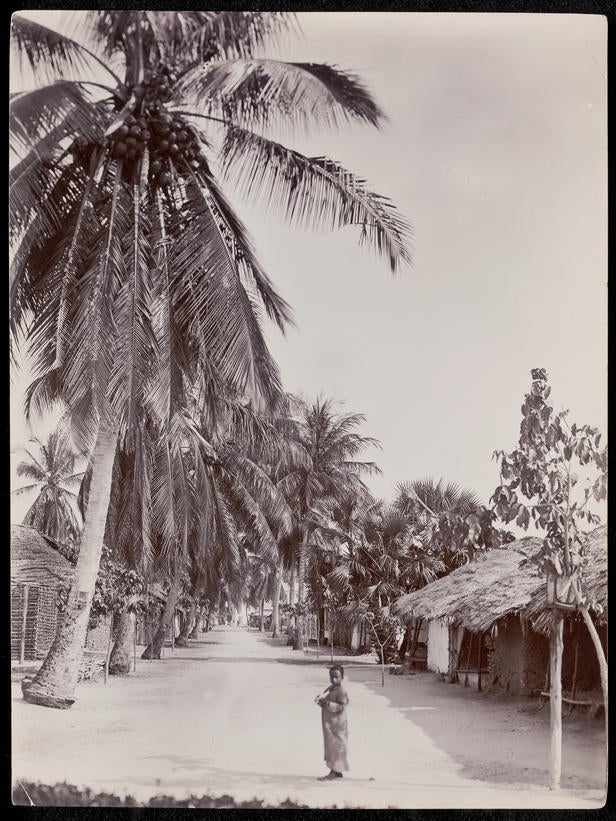 German East Africa Company: Dobbertin Photo Collection, ca. 1906-1910.
Photo of Bagamoyo, an important trading center on the east coast of Tanganyika (now Tanzania) and the original capital of German East Africa. Bagamoyo has recently been designated a world heritage site.
Bernath Mss 452

Adinkra gourd stamping block from Ghana, ca. 1969
Each stamp designed has a separate name and meaning. One on display is called "Sankofa." Meaning "return and get it," or "learn from the past."
Collection of David C. Tambo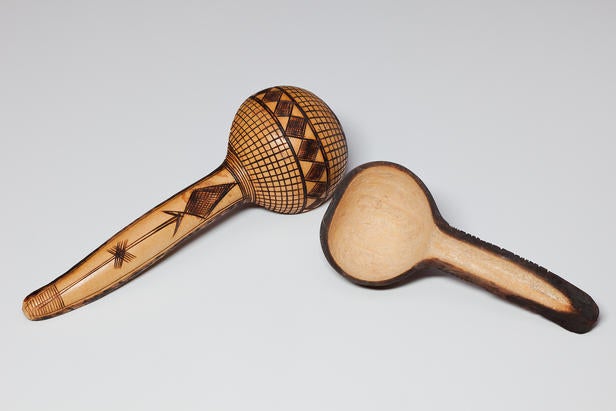 Decorated calabash ladles, Nigeria, ca. 1960's
Collection of David C. Tambo

Africa Photograph Album.
Photos of the Sahara Desert, somewhere near Agades (French West Africa, now in northern Niger), on 1936 cross Saharan journey by unidentified photographer.
Bernath Mss 248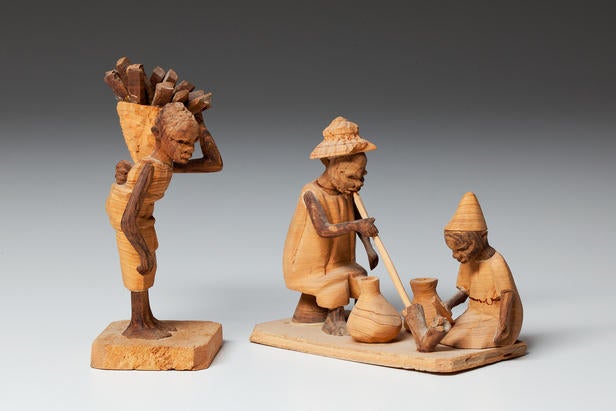 Thorn carvings, western Nigeria
Collection of David C. Tambo