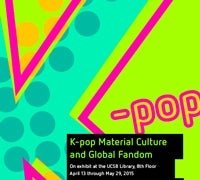 K-pop Material Culture and Global Fandom
Mon, 04/13/2015 - 8:00am

to

Fri, 05/29/2015 - 5:00pm
Exhibition
Location:
Pacific View Gallery
K-pop
An abbreviation for "Korean popular music," K-pop is one facet of the growing global phenomenon known as Korean Wave or Hallyu. The term has become synonymous with gender-segregated idol groups "manufactured" by South Korean entertainment corporations. The music is a fusion of Western pop genres. The videos are candy-colored, big-budget spectacles featuring highly synchronized dance routines.
Material Culture
"Material culture is the relationship between people and things." 
                                                                        — Arwen Mohun
The K-pop industry is known for its physical products featuring elaborate conceptual artwork and non-standard packaging. K-pop's material culture runs the memorabilia gamut, from CDs and DVDs to clothing, calendars, and light sticks.
Global Fandom
The international K-pop fandom, near 10 million strong, extends far beyond East and Southeast Asia, where the Korean Wave first took hold in the early 2000s. The global spread of K-pop is largely attributed to the power of social media and digital distribution. K-pop tours now visit North and South America, Europe, and Australia. Over 40 different Korean music groups performed in the U.S. last year. UCSB even has its own K-pop fan club, "Seoul'd Out."
On Exhibit
This exhibition, curated by Performing Arts Librarian Leahkim Gannett, explores the relationships between K-pop things, the industry that produces them, and fans who collect them. It is part of the Korean Popular Music and its Global Reach events presented by the UCSB Global Performance Studies Initiative:
Film Screening
Us & Them: Korean Indie Rock 
in a K-pop World
April 13, 5 to 6:30 pm
 McCune Conference Room, HSSB 6020
Symposium & Performance
April 18, 9 am to 5 pm
McCune Conference Room, HSSB 6020
#ucsbkpop