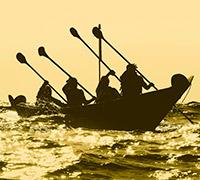 Indigenous Peoples of the Americas: Roots, Resistance, and Resurgence
Tue, 02/10/2015 - 9:00am

to

Fri, 08/28/2015 - 5:00pm
Exhibition
Location:
Special Research Collections
This exhibition explores Indigenous heritages and identity, and their modes of cultural and political representation. Taking a transnational and interdisciplinary approach, it also examines the spiritual wisdom rooted in the practices of ancient Indigenous civilizations.
A central theme of the exhibition is the resurgence, resistance, and growth of the Chumash community, whose culture embraces the protection of the natural world and oceans that are sacred to Indigenous peoples and vital to the survival of humankind. The UCSB Mesa was once the home of the Heli'yuk Chumash  village, one of the most densely populated areas in precolonial North America.
The tomol, the traditional Chumash  canoe, is a symbol of resurgence, and in this exhibition serves as a visual metaphor for Indigenous peoples' struggles for self-determination. Indigenous spiritual healing involves the four directions and the key elements of fire, water, land, and air. The annual ceremonial tomol crossings of the Santa Barbara Channel are a powerful example of re-establishing community  and contributing to the healing process through cultural activities and practices in contemporary times.
Indigenous healing is included in the exhibition through the traditional uses of medicinal plants and scientific inquiry in the field of ethnobotany, such as research on the use of medicinal plants by Yeukwana, Piaroa, and Hoti Indian tribes in the Venezuelan state of Amazonas.
The exhibition includes both ancient and modern objects. Pre-Columbian artifacts and facsimiles of ancient codices point us to the origins of Native peoples in the Americas. Examples of contemporary graphic art, literature, and theater show how artists and authors have been inspired and influenced by Mesoamerican  cultures.
The dichotomy  of struggles and accomplishments is evoked through movements for social justice and self-determination, as well as through expressions of cultural affirmation. The exhibition recognizes resistance movements, such as those involving the women leaders of the Zapatista National Liberation Army of Chiapas, Mexico. Contemporary artwork such as Leo Limón's "Dando Gracias" (giving thanks) memorializes and pays tribute to Mesoamerican ancestors.