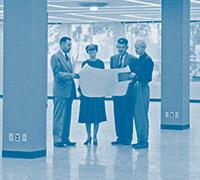 Construction to Reinvention: UCSB Library Photo History (1954-2016)
Mon, 01/04/2016 - 9:00am

to

Fri, 06/24/2016 - 5:00pm
Exhibition
Location:
Mountain Gallery
"That was the prime principle of planning: having the Library not only the cultural center, but the physical center of campus."
Donald C. Davidson, University Librarian, 1947-1977
Held in conjunction with the opening of UCSB Library's new and renovated buildings, this exhibition celebrates the Library's present and honors its past. Archival photographs from Special Research Collections trace the history of the Library from 1954 to 2016 as both a structure and a center of research, culture, collaboration, and innovation. The Library was one of the first buildings on the present location of the UCSB campus, and although technology, reimagined spaces, and student and faculty needs have transformed the Library through the years, it remains at the university's heart.
This exhibition was curated by University Archivist David Gartrell. All photographs are from the University Archives Photograph Collection, UARCH 112, Special Research Collections, UCSB Library.
1954
Original Library
In 1954, what was then known as Santa Barbara College of the University of California moved its operations from two locations, one on the Riviera and one on the Mesa (now the site of Santa Barbara City College) onto a 407-acre former Marine air station, which became the current campus.
1962
Unit II: First Addition
The Library's first addition (Unit II), an expansion that had been planned since 1954, was attached to the west of the original building in 1962. By then the school's name had been changed to University of California, Santa Barbara.  
1967
Unit III: 8-Story Tower
An expansion (Unit III) to the south of the original Library completed in 1967 added an 8-story "research tower" to the south with book stacks and study areas. It was needed after the Regents designated UCSB a general campus of the university system, supporting graduate programs as well as undergraduates.
1978
Unit IV: 4-Story Wing
A 4-story addition (Unit IV) to the south of the 8-story tower included a Library Classroom, and the relocation of the Circulation and Reference desks, the Black Studies Collection, and Colección Tloque Nahuaque (Chicana/o Studies Collection). The fourth floor added significant open space and rooms for individual and group study.
2016
Addition and Renovation Project
In 2013, construction started on the Library Addition and Renovation Project, which added more than 150,000 square feet of expanded and renovated spaces, including a 3-story addition to the north, complete renovation of the original 2-story building, and newly built Paseo grand entrance. The expanded Library, which opened in January 2016, features an Interdisciplinary Research Collaboratory, 24-hour Learning Commons, state-of-the-art Special Research Collections facility, Faculty Study, Graduate Study, reservable group study rooms, and Summit Café.