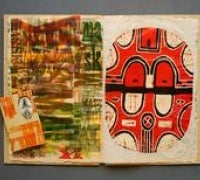 Sat, 09/13/2014 - 8:00am

to

Fri, 01/30/2015 - 5:00pm
Exhibition
Location:
Art & Architecture Collection
September 2014 - January 30, 2015
Amos Paul Kennedy Jr. created these two Mask books. Kennedy is a letterpress printer whose work is dramatic, provocative, irreverent, and always carries a message. His prints, which incorporate words, sayings, proverbs, and whole texts, are richly layered or austere and everything in between. Kennedy is based in Detroit, where he has established the Detroit Printing Plant and plans to work with others to share his printing expertise as others have shared with him. He has been invited to speak about his art and demonstrate his techniques at sessions open to students, staff and faculty throughout the United States. UCSB has hosted Kennedy twice during the past several years and he has never failed to inspire.
These books reflect Kennedy's African heritage and show his unique printing style. The larger work, titled Mask, presents vivid, graphic images of masks from a variety of African regions and tribes. In the smaller work, also titled Mask, the book format has been altered to incorporate pages that unfold to reveal rich imagery of text overlaid with the image of an African mask. This smaller work incorporates the poem "We Wear the Mask" by Paul Laurence Dunbar (1872–1906).
The UCSB Library is fortunate to own over 300 of Kennedy's artworks including prints, posters, broadsides, calling cards, artists' books, and postcard sets. His works often quote authors of all cultures from ancient to contemporary times. This exhibition will be on display through January 31, 2015. The books on display can be checked out from the Arts Library at the conclusion of the exhibition.
This exhibition is presented in conjunction with Images of Africa, which is on exhibit in the Library's Department of Special Collections.
_________________________________________________________
We Wear the Mask
By Paul Laurence Dunbar
We wear the mask that grins and lies,
It hides our cheeks and shades our eyes,—
This debt we pay to human guile;
With torn and bleeding hearts we smile,
And mouth with myriad subtleties.
Why should the world be over-wise,
In counting all our tears and sighs?
Nay, let them only see us, while
       We wear the mask.
We smile, but, O great Christ, our cries
To thee from tortured souls arise.
We sing, but oh the clay is vile
Beneath our feet, and long the mile;
But let the world dream otherwise,
       We wear the mask!