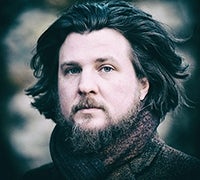 Don't Let Me Be Lost To You: Early 20th Century Near Eastern Music in New York City
Wed, 10/30/2019 -

5:00pm

to

7:00pm
Event
Location:
Special Research Collections
UCSB Library presents a talk-and-record-listening event by researcher and record producer Ian Nagoski. At the height of immigration to the United States 100 years ago, a wave of people from the collapsing Ottoman Empire settled in the U.S. At the same time, the burgeoning record industry in and around New York City radically hastened the distribution of musical cultures and documented thousands of performances by performers from present-day Turkey, Syria, Armenia, Lebanon, Egypt, and Greece within the U.S. And then, for a half-century, those recordings were neglected. Who were these musicians? Where did they go? How did their work affect America? Nagoski illuminates a world-within-a-world of a musical culture as it developed over two generations, reveling in the specific and presenting little-heard masterpieces.   
Biography:
Ian Nagoski is a music researcher and record producer based in Baltimore, Maryland. For more than a decade, he has produced dozens of reissues of early 20th century recordings in languages other than English for labels including Dust-to-Digital, Tompkins Square, his own Canary Records, and others. His enthusiastic talks have been hosted at the Library of Congress in Washington D.C., the Onassis Cultural Center in Athens Greece, the University of Chicago, and New York University, and he has presented his work in installation at the Museum fur Naturkunde in Berlin Germany, the Wellcome Center in London England, and the Peale Center in Baltimore Maryland. A fragment of his work is included on the MoonkArk, the first object to be permanently installed on the moon, in 2020.
"Nagoski is a Walter Benjamin visionary, using his collection of 78s to hallucinate a history that actually happened but which remains hidden beneath official dogma and nationalisms." - Marcus Boon, the Wire
"Nagoski's approach is great, because he's got a DJ's ear, and he's got this historian's perspective. He's looking at these songs as somewhere between a poem and an autobiography." - Jace Clayton, DJ/rupture
"His work is so rare and important that it should almost be treated as a ritual object, a pathway to the past and a voice for ghosts of a forgotten part of American musical history." - Nate Wooley, SoundAmerican