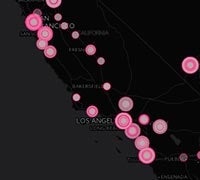 DiscoverText: Humans and Machines Learning Together
Tue, 01/30/2018 -

4:00pm

to

5:30pm
Event
Location:
Interdisciplinary Research Collaboratory
The Library's Interdisciplinary Research Collaboratory is happy to announce that DiscoverText is now available to UCSB Library users.  Join us for an orientation to this new resource by Stu Shulman, owner and creator of DiscoverText software and former professor of Political Science at UMass Amherst. Designed specifically for collecting and cleaning up messy Twitter and other text data streams, Discovertext allows users to capture large sets of Tweets dating back to Twitter's origins in 2006.
Shulman will explain how to use basic research measurement tools to improve human and machine performance classifying data over time, and will cover how to reach and substantiate inferences using a theoretical and applied model informed by a decade of interdisciplinary, National Science Foundation-funded research into the text classification problem. Human coders have imperfect agreement, and adjudication allows an expert to review groups of coders and decide who was right and wrong.  DiscoverText's Texifter applies "CoderRank," a patented  adjudication technique to recursively validate, measure, and rank humans on trust and knowledge vectors.
This event is free and open to the public.