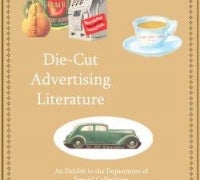 Mon, 04/28/2003 - 8:00am

to

Mon, 06/30/2003 - 9:15am
Exhibition
Location:
Special Research Collections
The vast majority of items in this exhibit come from a recently acquired collection (Mss 202) of 101 pamphlets, booklets, cards, and flyers cut in shapes such as animals, books, bottles, boxes, cans, fruit and vegetables, hats, oysters, and shoes. Many of the items are highly illustrated and printed in vivid colors. Most are early- mid 20th century, some from California.
UCSB Special Collections has one of the largest and best-known collections of advertising literature in the country, particularly in the area of trade catalogs. The most prominent is the Lawrence B. Romaine Trade Catalog Collection. Romaine, a Massachusetts antiquarian book dealer, spent approximately 30 years collecting over 41,000 trade catalogs from the 19th and early 20th centuries, on every imaginable product from agricultural implements, clothes, medical, and surgical instruments to weathervanes and windmills.
Other important collections include the James C. Williams (Mss 170) and Larry Badash (Uarch FacP 33) collections. Also the Sound Recording Catalog Collection contains lists and other publications from the early 20th century by numerous recording companies, mainly U.S. More recently acquired trade catalogs are found in our Trade Catalog Additions Collection (Mss 202).
The trade catalogs come in various shapes and sizes. They range from single sheets to large bound volumes. Many are heavily illustrated and some contain samples of their products. The die-cut items, however, are quite unusual and scarce. Their fanciful images capture the attention of the viewer, which of course is a primary aim of advertising.