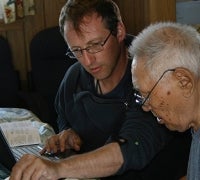 Decolonizing the Ethnomusicological Archive: A Talk by Aaron Fox
Event
Location:
Special Research Collections
Aaron Fox will present a broad view of "repatriation" and "recovery" projects that have been undertaken in recent years by activists and ethnomusicologists who work with archives of recorded sound.  Professor Fox connects the history of recording and collecting Native American music in the early 20th century to the later Cold War context, in which contemporary ethnographic ethnomusicology emerged in its current institutionalized form.  He interrogates the view of sound "archives" (and the work they have done to discipline our understanding of "music") as sites of memory and scholarship in order to stress their importance as sites of domination and resistance, and advances a specific critique of "repatriation" discourse in ethnomusicology as an ethically fraught domain.  His presentation represents 12 years of work "repatriating" recordings from the Laura Boulton Collection at Columbia University. 
This event, which is made possible in part by the William R. Moran Fund for Recorded Sound, is the third in the CISM in the Archive series. CISM in the Archive is an event series presented by the UCSB Library and the UCSB Center for Interdisciplinary Studies in Music (CISM). Each year, a music scholar is invited into UCSB Library's Special Research Collections to explore historic sound collections and offer a public talk incorporating research and recordings.
Aaron A. Fox is Associate Professor of Music and Director of the Center for Ethnomusicology at Columbia University. In recent years Fox has focused on issues of cultural and intellectual property and the repatriation of Native American cultural resources, as part of a broader interest in cultural survival and sustainability and music-centered community activism. His current project entails work with several Indigenous communities to return and recover recordings held by Columbia University's Center for Ethnomusicology, including collaborative work with numerous Indigenous scholar/activists.  Fox's publications on this topic include "The Archive of the Archive" in The Routledge Companion to Cultural Property (2017) and "Repatriation as Re-Animation Through Reciprocity" in The Cambridge History of World Music: Vol. 1 (North America). His book, Real Country: Music and Language in Working-Class Culture,  was published by Duke University Press in 2004.