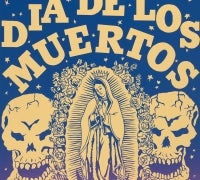 Day of the Dead (Dia de los Muertos) Altar
Wed, 10/25/2023 - 5:00pm

to

Wed, 11/22/2023 - 5:00pm
Exhibition
Location:
Ethnic & Gender Studies Collection
UCSB Library is pleased to present a Dia de los Muertos altar created by students from UCSB's Las Maestras Center. This student project is in conjunction with the Library's new exhibition Cultura Cura: 50 Years of Self Help Graphics in East LA.  
Self Help Graphics & Art (SHG) has developed one of the most popular Dia de los Muertos events in Los Angeles, and the longest running public commemoration of its kind in the country for nearly 50 years.
The Library's California Ethnic and Multicultural Archives includes an extensive collection of SHG studio silk screen prints and slides, as well as organizational records, photographs, and ephemera. SHG was founded in the early 1970s, during the height of the Chicano Civil Rights movement, by artists Carlos Bueno, Antonio Ibaez, Frank Hernandez, and Sister Karen Boccalero. 
On November 1, the UCSB student creators will be in the space to welcome visitors and to talk about their altar. The exact time for this event will be posted soon.