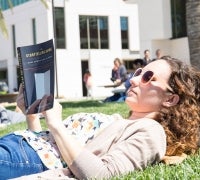 Class Showcase: Reading in Santa Barbara: Past, Present, and Future
Wed, 05/22/2019 -

9:30am

to

10:45am
Event
Location:
Instruction & Training 1312
Join students in the upper division English 197 Spring Quarter 2019 class "Reading in Santa Barbara: Past, Present, and Future."  Inspired by their archival research in UCSB Library, Special Research Collections, students will be presenting their reflections on the UCSB Reads book The Best We Could Do by Thi Bui and on their own experiences as readers at UCSB.  
Coffee and pastries will be served.
Class description here.
English 197, Reading in Santa Barbara: Past, Present, and Future
Instructor, Abigail Droge
How do we come to be studying literature in a UCSB classroom? What's the difference between why we read at all and why we read in school? In this class, we will consider the historical interactions between reading communities, both inside and outside the university, in order to analyze present relationships between such communities, and imagine future reconfigurations. As a class, we will undertake a sustained collaborative research project in Special Collections: a deep engagement with the archival records of UCSB's own academic history. In partnership with UCSB Reads, the main goal of the course will be to curate a public humanities event (such as an exhibit, a talk, or a performance) around this year's book, Thi Bui's illustrated memoir The Best We Could Do. The final showcase will be informed by our archival research and should in some way model or foster the relationships that students want to see between reading communities of different demographics, backgrounds, and ages. In this way, students will be better able to reflect on what it means, has meant, and might mean to be a reader at UCSB. 
The course is being taught in affiliation with the WhatEvery1Says Project.