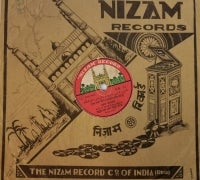 Re-collecting the Global South: Sublime Frequencies' Experimental Ethnomusicology
Event
Location:
Special Research Collections
CISM in the Archive presents "Re-collecting the Global South" with sound artist Robert Millis and filmmaker Hisham Mayet of the Sublime Frequencies collective on Wednesday, January 30, 2019 at 3:30 pm at UCSB Library, Special Research Collections (3rd floor, Mountain Side). Millis and Mayet will share their work reissuing global popular and folk music recordings on Sublime Frequencies, an important audio and video label, and discuss their recent curated reissues of ethnographic texts, audio, and photographs by mid-century ethnomusicologists Deben Battacharya and Charles Duvelle. Co-sponsored by UCSB Library and the Center for Interdisciplinary Study of Music (CISM). Event is free and open to the public.
Robert Millis is a musician, Fulbright scholar and sound artist. He has curated many releases and films for Sublime Frequencies, the most recent being the book Paris to Calcutta: Men and Music on the Desert Road, and authored the books Indian Talking Machine for Sublime Frequencies and Victrola Favorites for Dust-to-Digital. Performing solo and as Climax Golden Twins he has released many LPs and CDs including the soundtracks to the cult horror films Session Nine and Chained, and has created installation works such as The Music Room at Berlin's Haus der Kulturen der Welt in 2016, and radio pieces including "The Gramophone Effect" for Documenta14. robertmillis.net
Hisham Mayet is a film maker, photographer, musical researcher and sound adventurer. He was born on the Barbary Coast of North Africa. As co-founder and co-owner of the Sublime Frequencies label (along with Alan Bishop),  Mayet has realized multiple documentary films and music recordings over the course of the label's 15 year existence. Exhilarating, hallucinatory, harrowing, ecstatic and surreal, Hisham Mayet's films and audio collections reveal a region's rituals, rhythm and landscape, with an aesthetic of extra-geography and soulful experience. Employing an unflinching methodology that continues to inspire contemporaries and audience alike, his many documentaries have been redefining the nature of ethnographic film, and continue to provoke and amaze in equal measure.