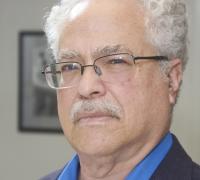 'A Collective Intelligence Gathered from Struggle': Cedric Robinson and the Black Radical Tradition
Event
Location:
Pacific View Room
Video of George Lipsitz' talk.
Photos of event.
Professor George Lipsitz (UCSB Black Studies & Sociology) will give a talk titled: "'A Collective Intelligence Gathered from Struggle': Cedric Robinson and the Black Radical Tradition" as part of the Pacific Views: Library Speaker Series. How have Black people in the U.S. and around the world not only survived the ravages of slavery but countered it with creative acts of re-humanization?  This lecture explores research by late UCSB professor Cedric Robinson, who focused on the collective intelligence gathered from struggle as key to Black survival, humanity, and democracy.  A reception will follow.
At noon on January 17, several former graduate students and postdoctoral fellows of Professor Robinson will discuss their research and the role Dr. Robinson played in advancing their research agenda as part of a larger discussion about the arc of graduate work in Black Studies.  The seminar will take place in Alumni Hall in the Mosher Alumni House at UCSB.  It is open to the public.