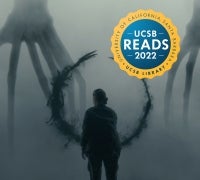 Carsey-Wolf Center and UCSB Reads Presents "Arrival"
Thu, 05/05/2022 -

7:00pm

to

10:00pm
Event
Location:
UCSB Pollock Theater
Reserve Tickets starting April 14.
Adapted from the 1998 short story "Story of Your Life" by acclaimed science fiction author Ted Chiang, Arrival (2016) centers on communicating with tentacular alien visitors, whose language changes one's experience of time. When twelve mysterious extraterrestrial spacecraft touch down across the planet, the U.S. Army recruits linguist Louise Banks (Amy Adams) and physicist Ian Donnelly (Jeremy Renner) to decipher the strange, inky writing, an experience that precipitates future-memories of Louise's daughter.
Introspective and immersive, Arrival imagines a fantastical calligraphy alongside questions of alienation, race, motherhood, and queer time.
This event is presented in conjunction with this year's UCSB Reads program, highlighting the work of Ted Chiang in anticipation of his campus discussion of his bestselling book Exhalation: Stories.
For this special hybrid event, the Pollock Theater will offer an in-person screening of Arrival. Following the screening, Jennifer Rhee (English, Virginia Commonwealth University, author of The Robotic Imaginary) will join Melody Jue (English, UCSB) for a virtual post-screening discussion of the film. Participants may register to watch the discussion in the theater with other Pollock patrons, or may join remotely via Zoom webinar at 9:00 PM PDT.
COVID-19 event policies: Patrons attending this event will be required to show either a UCSB COVID status green pass, proof of full COVID-19 vaccination, or the results of a negative PCR test taken within 72 hours of the event, with matching photo ID. Audience members must bring masks and wear them for the entire duration of the event. For further details, please visit this page.