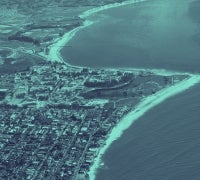 Campus by the Sea
Thu, 10/24/2019 - 8:00am

to

Sat, 07/04/2020 - 5:00pm
Exhibition
Location:
Special Research Collections
There will be an opening reception for the exhibition from 5 -7PM on Thursday, October 24.  This event is free and open to the public.
There will be an open house for the exhibition from 2-4 pm on Friday, November 1.  All are welcome.
UC Santa Barbara can trace its roots back to 1891 to a basement in downtown Santa Barbara, original home of its antecedent institution, the Anna S.C. Blake Manual Training School. Over the years, the school's curriculum shifted from manual training to a more liberal arts-based education. 
In 1935, the school changed its name to Santa Barbara College and became part of the California State University system.  Eight years later, however, the administration of the school was transferred to the University of California and, on July 1, 1944, the Santa Barbara College of the University of California was born.
The next several decades brought expansion in spaces, programs, students and scholarship, as UC Santa Barbara transformed
from a sleepy liberal arts college into a world-class research institution known for innovation and collaboration across the disciplines. Our faculty have won Nobel prizes in chemistry, physics and economics, Pulitzer and Breakthrough Prizes, Emmy and Academy Awards, Guggenheim and MacArthur Fellowships. We are leaders in all academic disciplines, from the humanities and fine arts to the sciences and social sciences, and are now ranked among the country's top five public universities.
Today's UC Santa Barbara is rigorous and ambitious, multicultural and inclusive, socially engaged and globally focused.
The campus by the sea that began as a humble manual arts training school has grown into an international academic leader.  
This exhibition was designed and curated by University Archivist Matt Stahl, Special Collections Librarians David Gartrell and Yolanda Blue, and Processing Archivist Leland Riddlesperger.
A companion exhibition:
Plans for the Future: UCSB Long Range Building Plans, 1944-1990
, is on display in UCSB Library, Art & Architecture Collection (1st Floor, Mountain Side).  Curated by UCSB's Art, Design & Architecture (AD&A) Museum, this exhibition showcases some of the long-range plans for the campus which are housed at the AD&A. 
Co-sponsored with UCSB Alumni.  With thanks to the Office of Public Affairs & Communications.