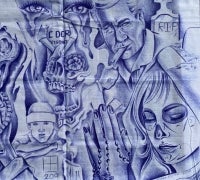 Beyond The Wall: The Prison Art Resistance
Tue, 01/18/2022 - 8:00am

to

Tue, 06/28/2022 - 8:00am
Exhibition
Location:
Mountain Gallery
UCSB Library will be hosting a public opening event with a moderated curator discussion on Wednesday, January 19th. View this exhibition online. 
Many of us have the liberty to express ourselves through speech, movement, or even art. What happens when you are in prison? There are currently over two million incarcerated individuals in the United States.* Despite their limited freedom and access to creative materials, some of these individuals find a way to resist their confinement through artistic expression. 
By sharing these letters, poems, and art pieces, UCSB Library's exhibition Beyond The Wall: The Prison Art Resistance invites you to learn about the lives and experiences of these incarcerated individuals, many of whom are invested in their college studies and the programs that exist inside to help them come home. 
These art pieces on display were donated by currently imprisoned persons who participate in the University of California's Underground Scholars "Behind the Wall" program. This program includes incarcerated scholars within the California Department of Corrections as well as formerly incarcerated students now in college. The program creates a pathway for incarcerated, formerly incarcerated, and system impacted individuals to enter higher education.
Underground Scholars Santa Barbara strives to build a prison-to-university pipeline through recruitment, retention, and advocacy activities. With this exhibit, USSB hopes to raise awareness of their work at UCSB.  
This exhibit was curated by UCSB Underground Scholars Ryan Rising, Juan Bran-Gudiel and Gilbert Murillo along with Alana Beal of UCSB Library.