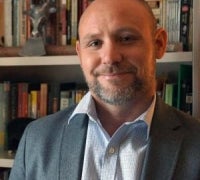 Pacific Views: Library Speaker Series Presents - The Anthropology of Rainforest Destruction
Event
Location:
Pacific View Room
UCSB Library presents a talk by Jeffrey Hoelle (UCSB Anthropology) to be followed by a public reception. 
Scroll down for full video recording of talk.
The Amazon rainforest is a land of incredible biological and cultural diversity that plays a crucial role in global environment health.  Yet the rainforest continues to be cut down to produce commodities, particularly cattle, soy, and gold.   While we know that a combination of economic factors and governmental policies contribute to these destructive activities, on-the-ground research with groups making land-use decisions helps to better understand the socio-cultural context and logic of deforestation. Drawing on a decade of his anthropological research with cattle ranchers and gold miners in the Brazilian Amazon, Hoelle discusses the beliefs, values, and interests that contribute to destructive behaviors.  His work explores the strategies that these ranchers and miners use to elude government surveillance and deforestation regulations, and sheds light on some of the ongoing challenges to more sustainable and just alternatives in Amazonia.  
Jeffrey Hoelle is a cultural anthropologist and the author of Rainforest Cowboys: The Rise of Ranching and Cattle Culture in Western Amazonia. His collaborative research in the gold mines of Amazonia, funded by the National Geographic Society, is the subject of the current UCSB Library exhibition, "Garimpeiros: The Wildcat Gold Miners of the Amazon Rainforest." 
The Pacific Views: Library Speaker Series is co-sponsored by the Office of the Executive Vice Chancellor.