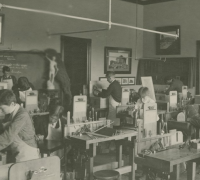 The Anna S. C. Blake Manual Training School: The Remarkable Antecedent of UC Santa Barbara
Fri, 07/06/2018 - 8:00am

to

Thu, 01/03/2019 - 5:00pm
Exhibition
Location:
Mountain Gallery
In 1892, Anna S. C. Blake, a wealthy Bostonian who relocated to Santa Barbara, founded the Santa Barbara Sloyd School in the city's downtown. Sloyd schools emphasized manual training and were closely linked to European folk art traditions and the Arts and Crafts movement. Renamed the Anna Blake Manual Training School after the founder's death in 1899, it remained grounded in the Progressive-era belief that all students should have access to a holistic education emphasizing both intellectual and practical knowledge in order to develop educated citizens. The Anna Blake School pioneered the application to kindergarten education.  Older students learned increasingly advanced, and gendered, skills; boys carpentry, girls cooking and needlework. The school later became a state normal school, which eventually after WWII was absorbed into the University of California System, becoming UC Santa Barbara. Although not everyone accepts the idea that UC Santa Barbara can be directly linked to the Anna Blake School, it was a significant institution in its own right. The exhibition focuses on the school's early years and explores how Santa Barbara reformers thought about the intersection of education, the manual arts, and social mobility in the 1890s, and the implications of those beliefs on higher education today. 
Exhibition opening reception Thursday, November 15, 5-7 pm (UCSB Library Sunrise Room, 1st Floor, Mountain Side).
All photos are from UCSB Library's University Archives Photographs collection UArch 112. These and other photographs from University Archives can be located digitally in the Alexandria Digital Research Library (ADRL), UCSB Library's home for digital research materials. We are continually adding content to ADRL, including images, text, streamed media, and numeric and spatial data. When complete, this comprehensive digital library will provide access to millions of hidden objects from UCSB Library's collections.
This exhibition was curated by Sarah Case, Managing Editor, The Public Historian, and Continuing Lecturer, History, and Nora Kassner, graduate student in History, with the support of Duncan Mellichamp, Founding Faculty member, Chemical Engineering (1966); Trustee (2003); and Honorary Alumnus (2009), UCSB Library, and John Majewski, Michael Douglas Dean of Humanities and Fine Arts.