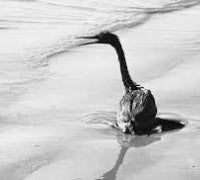 Anguish, Anger, and Activism: Legacies of the 1969 Santa Barbara Oil Spill
Mon, 01/28/2019 - 8:00am

to

Wed, 09/11/2019 - 5:00pm
Exhibition
Location:
Special Research Collections
View the online exhibition here.
The 1969 Santa Barbara oil spill is frequently cited as a catalyst for the birth of the modern environmental movement.  This exhibition, which is curated by librarians Kristen LaBonte and Annie Platoff, will examine the connections between this historic disaster and environmental activism in the local area. 
There will be an opening event and reception on Monday, January 28, 2019, from 5:00 to 7:00.  This event is free and open to the public.
Oil Slick, 2019, a companion exhibition by Rose Briccetti, will be on display in the Ocean Gallery: Oil Slick collects and collages images of--often petroleum based--consumer goods with the popular iridescent finish known as "oil slick." Though visually beautiful, the oil slick finish refers to pollution and environmental disaster. The images together create a work that explores themes of consumerism, our continued addiction to oil, and beauty in tragedy.
Image credit: NBC News