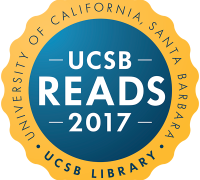 Event
Location:
Other, on-campus
In conjunction with UCSB Reads 2017, UCSB Library is co-sponsoring this talk by Doug Massey (Princeton University, Sociology), hosted by UCSB Professor of Sociology Edward Telles. The UCSB Reads 2017 book, Into the Beautiful North, delves into issues of immigration, return migration, and border crossings.
Massey has served on the faculties of the University of Chicago and the University of Pennsylvania. His research focuses on international migration, race and housing, discrimination, education, urban poverty, and Latin America, especially Mexico. He is the author, most recently, of Climbing Mount Laurel: The Struggle for Affordable Housing and Social Mobility in an American Suburb (Princeton University Press 2013) and Brokered Boundaries: Creating Immigrant Identity in Anti-Immigrant Times (Russell Sage 2010). He is a member of the National Academy of Sciences, the American Academy of Arts and Sciences, and the American Philosophical Society. He is currently president of the American Academy of Political and Social Sciences and past-president of the American Sociological Association and the Population Association of America. Ph.D. Princeton University.
Co-sponsored with UCSB's Broom Center for Demography.
(North Hall, 2111)