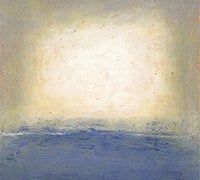 Alchemy of Light
Tue, 01/15/2019 - 8:00am

to

Fri, 04/26/2019 - 5:00pm
Exhibition
Location:
Mountain Gallery
UCSB Library is pleased to present Alchemy of Light in conjunction with The Illuminated Imagination: The Art of C. G. Jung, on view at UCSB's Art, Design & Architecture Museum, January 12-April 28, and the four day conference, "Art and Psyche: The Illuminated Imagination" which takes place on campus April 4-7.
This exhibition of paintings by Mary Conover investigates and sheds light on the connections between personal transformation, psychology and art.  It details the story of Conover's artistic journey and that of her grandmother Mary Conover Mellon who founded the Bollingen Series of books. Conover Mellon started the Bollingen Series with the intent to publish the complete works of Jung. Through Mary's work, one can identify many ideas she inherited, consciously or subconsciously, from her grandmother.
Mary Conover grew up with major books by Jung surrounding her -- on dreams, archetypes, yoga, art and alchemy. Much of what Mary considers to be her own personal alchemy occurs through the act of painting, which she sees as a transformative process, not only of materials but of her own spirit and psyche too. Her work can be viewed as an ongoing study of light, which is for her, a study of the self and the psyche.
This exhibition is focused on the story of the Bollingen Series and its influence on a modern contemporary artist.