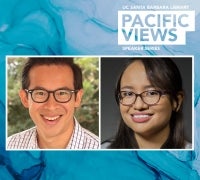 Pacific Views Library Speaker Series Presents "Do Environmental Markets Cause Environmental Injustice? Evidence from California's Carbon Markets"
Event
Location:
Online
Market-based environmental policies are widely adopted on the basis of allocative efficiency. However, there is a growing distributional concern that market forces could increase the pollution exposure gap between disadvantaged and other communities by spatially reallocating pollution. We estimate how this "environmental justice gap" changed following the 2013 introduction of California's carbon market, the world's second largest and the one most subjected to environmental justice critiques. Embedding a pollution transport model within a program evaluation framework, we find that while the Environmental Justice gap was widening prior to 2013, it has since fallen by 21-30% across pollutants due to the cap-and-trade policy.
Kyle Meng is an Associate Professor at the Bren School of Environmental Management and the Department of Economics at the University of California, Santa Barbara. Professor Meng's research is primarily in environmental and resource economics, with a focus on advancing our understanding of climate change impacts and policies. An economist with training in engineering and atmospheric physics, Meng uses past evidence to improve forecasts of a future under anthropogenic climate change. His research has appeared in leading economics and science journals, including the American Economic Review, Nature, and PNAS. Meng received his Ph.D. in Sustainable Development from Columbia University and his B.S.E. in Civil and Environmental Engineering from Princeton University.
Danae Hernandez Cortes iis an Economics Ph.D. candidate at the University of California, Santa Barbara. Her work involves using applied causal inference methods to analyze the environmental justice consequences of environmental policy. She has done research on air pollution and climate change in Mexico and the United States. Before joining UCSB, she studied her B.A. in Economics at the Centro de Investigación y Docencia Económica (CIDE) in Mexico City. 
For a list of upcoming events in the Pacific Views: Library Speaker Series, please visit this page.