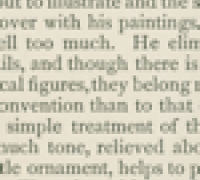 57th Annual Western Books Exhibition, Rounce & Coffin Club of Los Angeles
Mon, 11/15/1999 - 8:00am

to

Thu, 12/30/1999 - 5:00pm
Exhibition
Location:
Special Research Collections
The Department of Special Collections displayed the 1998 Western Books Exhibition. This 57th Annual travelling exhibit was sponsored by the Rounce & Coffin Club of Los Angeles.
The exhibition showcased 24 outstanding examples of works produced by fine press printers and book artists using a wide variety of styles. Some of the presses included: The Bancroft Library Press, Bullnettle Press, Mesa Arts Press and the Scripps College Press. Many of the selections have special binding, hand painted pages, carved woodcut, unique printed letterpress as well as books designed with computer digital technology.