Carlton E. Morse was one of the most prolific writers in radio and originated several top series. 
This collection includes scripts for radio and television series:
Capt. Post: Crime Specialist (1930-1931)
Chinatown Squad (1932)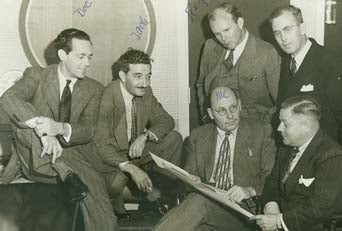 Barbary Coast Nights (1933)
I Love A Mystery (1943-1944, 1949-1952)
Adventures By Morse (1944-1945)
His Honor the Barber (1945-1946)
I Love Adventure (1948)
Slice of Life (1949)
Mixed Doubles (1949)
One Man's Family (1949, 1951-1952)
Family Skeleton (1953-1954)
The collection also contains memorabilia on Morse's career (awards, clippings, etc.) and production documents.
A finding guide to the collection is here.
This collection is currently inaccessible during the transition of the American Radio Archives from the Thousand Oaks Library Foundation to UCSB's Special Research Collections. Please monitor this page for updates.
For more information on the collection or assistance in using the materials, please contact Special Collections staff at special@library.ucsb.edu.
Photograph is Carlton E. Morse (seated, second from right) on the set for One Man's Family.