Allin Slate pioneered the sports talk show format on KABC radio in Los Angeles in the 1960s. His career began in the 1940s and included a period of work in Honolulu. He returned to his native Los Angeles and worked at KIEV, KABC, and KNX. This collection contains approximately 2 boxes of papers and more than 400 open-reel audiotapes. The audiotapes include: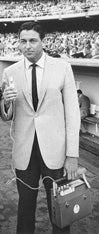 recordings of Slate's broadcasts
his programs with co-hosts Leo Durocher and Jimmy Piersall
recordings of post-game interviews and press conferences with athletes, and luncheons at the Southern California Sports Broadcasters Association
The collection also includes typescripts used in Slate's broadcasts, photographs, and publicity material related to his shows.
A finding guide to the collection is here.
This collection is currently inaccessible during the transition of the American Radio Archives from the Thousand Oaks Library Foundation to UCSB's Special Research Collections. Please monitor this page for updates.
For more information on the collection or assistance in using the materials, please contact Special Collections staff at special@library.ucsb.edu.