Finding Photographs
COVID 19 UPDATE:   Due to the library closure, we are unable to process any scan requests until further notice.  Please make use of our existing digital content, linked here  http://mil.library.ucsb.edu/ap_images/ if you are unable to find available scans in our FrameFinder .
Access to the UCSB Library's digital Aerial Photography Collections is free and open to the public.  
Use our FrameFinder web map app to locate 425,000 individual photographs from more than 1,225 flights that have individual image metadata. For flights not in FrameFinder, you can use our AP Flights Catalog (see below) and navigate directly to scanned images when they are available.
To get a better understanding how FrameFinder works, watch this brief tutorial.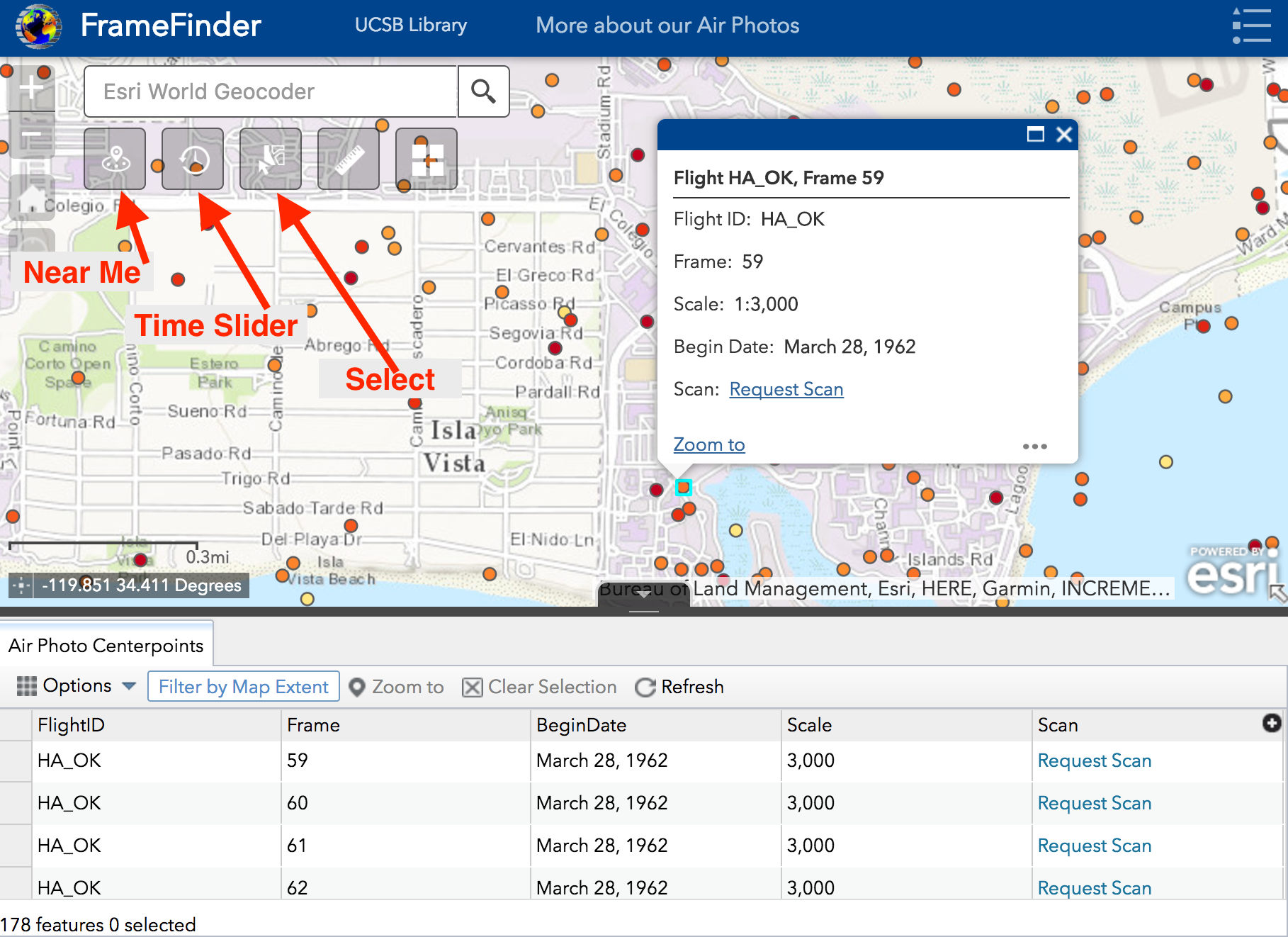 Click on any centerpoint to see metadata about the image and a link to download the full tiff.
Use the 'Select' tool to find all of the airphotos inside of an area you specify on the map

You can then view and sort your selection on a table

Use the 'Time Slider' tool to restrict the view to a date range. 
Use the 'Near Me' tool to find the airphotos closest to a point you click on the map.
We have a video orientation to using the FrameFinder.
Please note: only 15% of our photographs are scanned.
Flight Catalog and Indexes
For flights that do not have individual image metadata (are not in the FrameFinder), use one of the lists below from our AP (Aerial Photo) Flights Catalog.  Each flight will have a catalog record, and most will have jpeg or pdf flight indexes (learn about reading indexes) that will help you to identify relevant images for your project.
To look at the catalog record, click on the Flight ID.  If the catalog record says "Partially digital" or "All frames digital," you may browse our image directories to see if an image is scanned. It may take a few minutes to load the directories.  
If the image is not already scanned, you may request one for a fee. Every effort made to complete work as promptly as possible. Depending on the number of requests ahead of yours, we try to turn work out within 4-7 business days.   Please also be sure to check our image directories for available downloads: http://mil.library.ucsb.edu/ap_images/ Follow the link to access our Special Research Collections Airphoto Scanning Request Form.  Affiliates, use your UCSBnetID.  Non-UCSB affiliates will need to create a userID. Choose the reproduction format of "Aerial Photography Scan".  Choose the reproduction format of "Aerial Photography Scan".
AP Flights Catalog may be accessed via any one of the following links. Choose the one that best suits your research needs.
The Library has many flights that are not yet represented in the AP Flights Catalog.  Please contact us for assistance (special@library.ucsb.edu 805-893-3062) identifying aerial photographs of other locations and time periods.