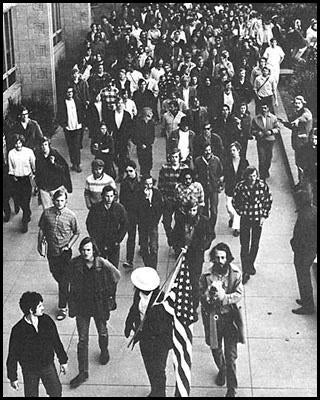 The University Archives is the official repository for university records, including administrative and departmental offices, student programs, and faculty and administrators' papers. The following collections contain material related to Isla Vista:
Academic Senate Records. Includes minutes and committee reports of the Santa Barbara Division of the Academic Senate meetings, with extensive discussion of issues pertaining to student unrest and related faculty concerns. Also other related files, including those for Academic Council, Committee on Academic Freedom, Committee on Affirmative Action, and Council on Experimental Courses. (UArch 13).
Associated Students Subject Files. The files generally date from the 1960s and include a wide range of Isla Vista subjects such as: Isla Vista Community Council, Isla Vista Community Services, Isla Vista Demonstrations, Isla Vista Governmental Study, Isla Vista History, Isla Vista Legal Services, and Isla Vista Violence. There also are a number of files from the 1970s on related topics such as affirmative action, housing, legal affairs, local government, minority students, oil industry, and women's issues. (UArch 21).
Biographical Files. Contain information on faculty and administrators involved in Isla Vista issues, such as Assistant Chancellor David Gardner and Academic Senate Chairman James Walters. (UArch 11).
College of Letters and Science, IV Riots Files. Mainly material received by the Office of the Dean of the College, 1968-1972, 1975, much of it focusing on the academic programs and courses offered at UCSB. Included are correspondence, memos, proposals, and reports about new classes such as the X-100 National Crisis courses and development of ethnic studies programs, as well as issues involving scheduling and disruption of classes. (UArch 39). 
Ethnic Studies Collections. Student protests such as the takeover of North Hall in 1969 spurred UCSB into becoming the first campus in the University of California to promote ethnic studies under fully accredited academic programs.
Isla Vista / Student Unrest Files. Primarily clippings, but also memoranda, correspondence, bulletins, flyers, and reports by various UCSB offices and individuals. (UArch 36).
La Cumbre. UCSB yearbooks containing photos documenting student life.
News Releases, ca. 1962-1971. Stories released by UCSB. In the Office of Public Information subject files.
Newsclippings, ca. 1947-1976, 1984-1988. Mainly files with copies of UCSB-related stories run in statewide newspapers, including IV-related items. In the Office of Public Information subject files.
Office of the Chancellor, Chancellor's Records. Vernon Cheadle was the Chancellor of UCSB from 1963 to 1977, and oversaw its growth from a small college to a major university. Records document events relating to the social ferment surrounding the university during this period, as viewed from an administrative perspective. Included are correspondence, memos, bulletins, statements, news releases, and reports. (UArch 17).
Subject Files. Primarily newspaper clippings, including files on Issues - Isla Vista, 1973-1990, and Joint Isla Vista Effort (J.I.V.E.), a community trash clean-up organization, 1970. (UArch 12).
Student Organizations Collection. Large collection of posters, flyers, and ephemera, much of which is from the 1960s and 1970s. They provide information about student groups and activism on campus, including speakers and programs held at UCSB, rallies, and anti-war protest marches. (UArch 101). Other Student Groups include the Students for Free Political Action and El Congreso.
Return to Isla Vista Resources