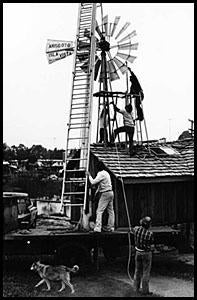 A number of collections of individuals and organizations contain material on Isla Vista and student issues. These include:
Buzzell (Rolfe G.) Collection (SBHC Mss 48). Mainly papers relating to the 1970 IV riots, Buzzell's arrest, and subsequent legal action taken by Buzzell (Superior Court of the State of California for the County of Santa Barbara, No. 91214). 
Center for the Study of Democratic Institutions Collection (Mss 18). A large collection from the Santa Barbara based think-tank, which includes numerous papers and discussions on Viet Nam, conflict, peace, the role of science and technology in American society, the political process, the environment, and student issues of the 1960s and 1970s. 
Community Development and Conservation Collection (SBHC Mss 1). A large collection of Santa Barbara material, mainly assembled by Pearl Chase, with 1970s-1980s Isla Vista clipping, subject, and organization files relating to groups such as the Isla Vista Association, Isla Vista Community Development Corporation, Isla Vista Community Service Center, Isla Vista Counseling Center, Isla Vista Credit Union, Isla Vista Food Coop, Isla Vista Justice Court, Isla Vista Legal Clinic, and Isla Vista Medical Clinic.
Environmental Studies Collections. The 1969 Santa Barbara Oil Spill prompted widespread criticism of government responses to the crisis and spurred the growth of the environmental movement locally and nationwide. Also included are collections relating to other natural resource issues such as water usage. 
Girvetz (Harry) Papers (UArch FacP 27). Isla Vista files kept by Girvetz, a UCSB Philosophy professor, as a member of the Committee of 50, and also including clippings and other ephemera.
Isla Vista Archives (SBHC Mss 41). The single largest collection of Isla Vista materials. Records, mainly 1970-1982, of the Isla Vista Community Council and Isla Vista Municipal Council, as well as files for subjects and issues such as health, housing, incorporation and annexation, Isla Vista relations with UCSB, Santa Barbara County, and California, law enforcement, planning, population, public safety, 1970 riots, transportation, zoning, and related audiovisual materials. 
Isla Vista Improvement Association Records (SBHC Mss 51). Minutes and related materials, 1961-1967. In 1967 the Isla Vista Improvement Association merged with the Isla Vista Homeowners Association to form the Isla Vista Association. 
Jacobs (Wilbur) Papers (UArch FacP 16). Files of a UCSB History professor, including material on the 1970 IV disturbances such as flyers, reports, issues of local newspapers, clippings, and other printed matter.
Local History Files (SBHC Mss 44). Mainly 1970s-1980s clippings and other ephemeral printed material, with numerous files on Isla Vista topics such as: architecture, bicycles/bike routes, bombings, businesses, churches, disturbances, government, history, housing, incorporation, organizations, parks, planning, police, politics, recycling, seawall, senior citizens, streets and traffic, surveys, taxation, tenants unions, voters/voting, and youth projects.
Ridland (John) Collection (SBHC Mss 47). Materials from a UCSB English professor, including newspaper accounts of the Isla Vista troubles, 1970; a manuscript of Ridland's "Eyes and Ears on Isla Vista: An Unpublished Review from 1970"; and Isla Vista related printed items such as the Isla Vista Street Poets series, 1970-1971, from Water Table Press.
Santa Barbara Citizens Commission on Civil Disorders Collection, 1970 (SBHC Mss 57). The collection contains a guide and list/table of contents for 15 open reel audiotapes of hearings held from June 17, 1970 to September 1, 1970 regarding Isla Vista and other local disturbances, 1969-1970. The tapes include eyewitness testimony, accounts of arrests and jail experiences, observations of police actions, accounts of news coverage, observations on causes of unrest, resource information on judicial codes, bail systems, effects of tear gas, socio-economic conditions of Isla Vista, housing, mass arrest procedures, administration of justice during civil disorders, the role of UCSB administration, radicalization process among the student body, Black Student Union, Student Legal Defense Fund, observations of the legal community, Faculty for Academic Responsibility group, UCSB Radical Student Union group, county drug problems, Isla Vista Red Cross Unit, the development of ecology as a student issue, the role of fire departments in civil disorders, law enforcement training, Isla Vista riots from a state administrative point of view, and and issues of UCSB student government. 
Sullivan (James J.) Collection (SBHC Mss 49). Materials about Isla Vista during Spring 1970, collected by UCSB professors James J. Sullivan and Robert Potter, and used in production of various reports. Includes correspondence, notes, articles, clippings, reports, statements by UCSB administrators and other officials, Police Practices Action Project files, photographs, and tape recordings.
Tompkins (Walker) Collection (SBHC Mss 19). Local history materials, including tapes of his "Santa Barbara Yesterdays" radio programs, some of which contain segments on Isla Vista history. 
UCSB. Associated Students Subject Files (UArch 21). Includes files on Isla Vista, housing, protests, student groups, local history, etc.
UCSB. Office of Public Information. Isla Vista / Student Unrest Subject Files (UArch 36). Contains clippings, memos, reports, correspondence, photos, and other documents on subject matter relating to Isla Vista and UCSB students, particularly to student unrest, including the Bank of America burning and Isla Vista riots, ethnic studies protests, the North Hall incident, Isla Vista incorporation issues, and the Faculty Club bombing. 
UCSB. Office of Public Information. Subject Files (UArch 12). Includes files on Isla Vista, student protests, etc.
Varley (C. Ray) Collection (UArch FacP 20). Vice Chancellor, Business and Finance, and Isla Vista Affairs. Includes clippings, correspondence, faculty responses to the disturbances, statements by Varley on UCSB/Isla Vista relations, the Trow (Isla Vista Commission) Report and followup, and a large number of photographs and related material collected by Varley for his book, Isla Vista, U.S.A. (Santa Barbara, CA, 1970).
Return to Isla Vista Resources