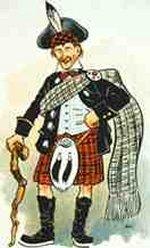 Collection of sound recordings, books, ephemeral materials (such as posters and postcards), photographs related to Scottish entertainer Sir Harry Lauder (1870-1950), one of the most successful performers of the early 20th century. He was best known for his humorous songs sung in a Scottish brogue, such as Roamin in the gloamin', I love a lassie, and A wee deoch and doris. He performed throughout the English-speaking world in music halls, in vaudeville, and in films, and he recorded for most of the major recording companies including the Gramophone Co., the Victor Talking Machine Co., Pathé, and Edison, selling millions of records. He also entertained troops during both world wars and raised millions of pounds for charities. He was knighted in January 1919 by King George V.
Darrell Baker, in researching his book The Sir Harry Lauder Discography (Scarecrow, 1990) amassed one of the most significant collections of Lauder materials in the world, comprising nearly 400 Lauder recordings as well asa wide range of other materials.
Sound recordings and books have been individually cataloged in UC Library Search. Cylinder recordings have been cataloged and digitized through the UCSB Cylinder Audio Archive. Digital copies can be requested through a Special Collections Research Account. An inventory of other materials is in preparation. 
For more information on the collection or assistance in using the materials, please contact Special Collections staff at special@library.ucsb.edu.