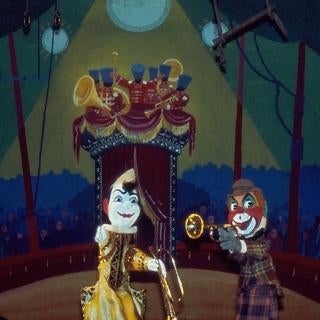 Betsy Brown was an artist and storyteller who taught through the use of puppets. Growing up in Depression-era Texas, Brown learned storytelling from her grandfather and, inspired by "Pinocchio," carved her first marionettes from balsa wood. After moving to Los Angeles and marrying an architect, she studied sculpture and made several terra cotta works for Catholic churches here. She earned a bachelor's degree from Immaculate Heart College and a master's degree from Cal State Northridge and taught puppetry in grade schools, at Cal State Northridge and at Los Angeles Valley College. She presented workshops on puppetry at UC and Cal State campuses and produced interactive puppet shows. In 1997 she received the annual Professional Artists in Schools Award. She was recognized by the Los Angeles Public Library and print edition B-8).
The collection consists of programs and pamphlets, programs and fliers related to puppetry, puppetry periodicals, materials related to masks and costumes, materials related to clowns, mudras and mimes, materials on the design of puppets and puppet theater, puppet plays, essays by Betsy Brown, correspondence of Betsy Brown related to puppetry, and puppet photography.
The collection is currently being processed. Please contact the curator for more information or to access this collection.