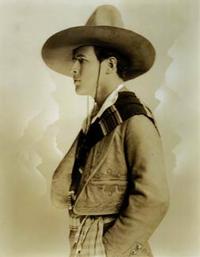 Singer Hall Clovis studied with Anna Eugenie Schoen-Rene and began his career in Omaha singing operettas. He later moved to New York where he sang the lead in the the premier of Ernest Trow Carter's Blonde Donna. He recorded for Gennett records with the vocal quartet the Four Bachelors and performed widely as the vocal duo Clovis-Steele with his wife soprano Eleanor Steele, concertizing throughout the 1930s. Clovis-Steele commissioned and sang pieces from Mario Castelnuovo-Tedesco, Darius Milhaud, H.T. Burleigh, Samuel Richards Gaines, Jeno Takacs, Fannie Charles Dillon and Katherine Ruth Heyman. The collection includes manuscripts of works written for Clovis-Steele, copies of recordings, programs, clippings and photos.
For a description of the collection, consult the finding guide in the Online Archive of California (OAC). 
For more information on the collection or assistance in using the materials, please contact Special Collections staff at special@library.ucsb.edu.