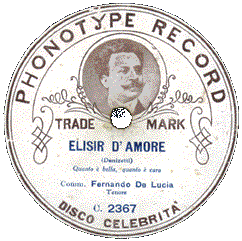 The Archive of Recorded Vocal Music, founded in 1968 with the acquisition of the Anthony Boucher collection, contains over 30,000 vocal recordings from the first half of the 20th century.
The archives' 78rpm vocal recordings are cataloged in UCSB Library Search. Searching can be done by singer, composer, opera and aria title or by record label and number. Nearly every singer of the "Golden Age" is represented in the collection. A partial listing of singers represented gives a small indication of the collection's breadth. In addition to American and Western European singers, the archive is strong in recordings of singers of the Imperial Russian Court, Polish, Czech, Dutch, and Hungarian artists that are not usually represented in American collections. Many lesser known singers and unfamiliar repertoire can be found in the vocal archive, and in many cases dozens of interpretations of a particular aria can be compared. The archive also allows comparison of singing styles from early in the century with later styles or styles of different schools of singing.
Due to the fragility of shellac recordings, originals are copied onto CD when patrons request a particular disc, allowing repeated listening without damaging the original. CD copies are then kept for future patrons to use. Turnaround is usually less than a day for most requests, though items already copied can be paged immediately.
In addition to the cataloged 78rpm recordings, the Archive contains LP reissues of many historic recordings or very rare recordings. Many of these discs are not yet cataloged but include LP reissues on labels such as Belcantodisc, Pearl, Eterna, Scala, Top Artists Platters, Heritage, Period, Rococco, Club 99, Lebendige Vergangenheit, Rubini, Olympus, Delta, Fidelio, OASI, IRCC, FRP, Discophilia, The Golden Age of Opera and other "private labels." The archive also has personal papers of singers Lotte Lehmann, Martial Singher, Ruth Michaelis, and Hall Clovis, master tapes for Anthony Boucher's long running Pacifica Radio Network show "Golden Voices" and a collection of radio air checks including Metropolitan and San Francisco Opera performances and rehearsals, mostly from the 1940s.
For more information on the collection or assistance in using the materials, please contact Special Collections staff at special@library.ucsb.edu.