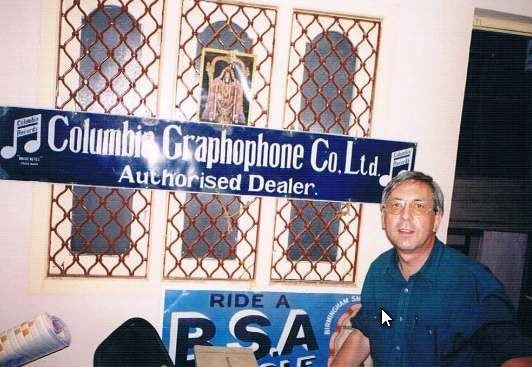 Benno Häupl was the dean among collectors of early ethnomusicological sound recordings and photographic images. Over a period of several decades, he amassed one of the largest and most diverse collections of commercial 78rpm recordings from around the world.
The collection encompasses ethnic, traditional, and regional music ranging from early Berliners to post-WW2 regional labels and includes 25 Edison cylinders (1892–1902); 9,000 78rpm discs (1898–1970); 2,100 photos (1860–1960) of traditional musicians with their instruments; and 130 sound recording trade catalogs (1910-1960), primarily of ethnic and international series.
The 78rpm collection includes a wide range of shellac discs: 1,200 from India, Pakistan, and Ceylon (now Sri Lanka); 900 Turkish; 900 Arabic and Maghrebian (northwest Africa); 850 African; 600 flamenco/Spanish; 500 Appalachian; 400 Greek; 150 Chinese; 130 from the French Antilles, Haiti, and Guyana; 100 Portuguese (fado), 90 Iranian; 85 Albanian polyphony; 80 Native American Indian; 70 from Madagascar and Réunion; 70 French-Canadian; 70 Armenian; 60 Cretan (lyra); 50 Yiddish/cantorial; 50 Afghan/Pashtun; 50 Italian (including Sardinian and Corsican); and 50 Lemko (Ukrainian). Other nations and areas represented in smaller numbers include Vietnam, Ethiopia, Burma (now Myanmar), Kurdistan, Thailand, Yemen, Saudi Arabia, Oman, Mongolia, Malta, Uzbekistan, and Japan. Music of regional minorities is also represented, including Aborigines, Inuit, Aramite-Assyrians, Tuareg, Khmer, Basques, Laz (Turkey and Georgia), Crimean Tatars, Maori, Ilocano (Philippines), Sephardim, Criollos (Spanish Creole), Parsi; Romansh (Switzerland), Azeris (Turkic), Ruthenians (Ukraine), and Andean Inca.
Among the regional styles represented are Tex-Mex; sacred harp singing; Kroncong, angklung, and gamelan gong (Indonesian); trallalero (Italian); khömei (throat singing); kwela (southern African "street music"); puirt à beul (Scotland, Ireland, Cape Breton); huayno (Andean/Peruvian); highlife (Ghana); klezmer; Berber aita; pibroch (Gaelic/bagpipes); and shangaan (South Africa)--plus a batch of early recordings of such European folk instruments as hardanger fiddle, fujara, gusle, tárogató, ciaramella, dulzaina, jew's harp, nyckelharpa, kankles and kantele, binioù, fyelli, hurdy-gurdy, and launeddas. A few 78s of indigenous and tribal music are from such places as Tibet, Amazonia, Laos, Sudan, Papua New Guinea, Korea, Bahrain, Nepal, Surinam (now Suriname), Somalia, Cape Verde, Sulawesi (Indonesia), Tonga, Iceland, and French Polynesia.
An important and focused part of the Häupl Collection is his Cajun collection, a unique 50-year assemblage of Cajun records from 78rpm discs to LPs. There are 400 78rpm discs, 1,400 45rpm discs, and 750 LPs. It is thought to be the largest collection of its kind of the music of the autochthonous French- and Creole-speaking settlers in Louisiana, including many "only known copies," since there were often only a few copies pressed.
Early bagpipe recordings were Häupl's other great obsession, and the collection includes 700 solo bagpipe 78s (and several cylinders) representing the tradition of free reed instruments in many countries, including France, India, Germany, Bulgaria, Ukraine, Albania, Spain, Morocco, Greece, Italy, Sweden, Egypt, Bohemia (Czech Republic), Ireland, Hungary, Turkey, Croatia, Armenia, Iraq, Georgia, Romania, Tunisia, and--of course--Scotland.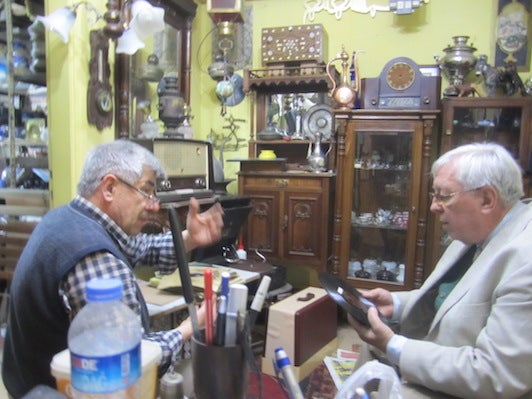 The Häupl holdings also include a taksim collection (1910–1950), with about 180 shellac records from Turkey, Arabia, Armenia, and Greece with solo improvisations in Middle Eastern modes on various string and wind instruments, including some rarely documented modes. There are also shellac records from the estate of Prof. W. Heinitz (1883-1963), who until 1949 was head of the Phonetisches Laboratorium in Hamburg, The Heinitz records comprise about 100 discs made by the Phonogramm-Archiv, the Institut für Lautforschung, and Deutscher Rundfunk. A personal collection of shellac discs of Hans Helfritz (1902-1995)--the ethnomusicologist who worked with Erich von Hornbostel and Carl Orff and who recorded in Yemen, West Africa, Mexico, and Brazil from the 1930s to the 1960s—comprises about 80 discs.
Two photo collections (1860–1970) document musicians and their instruments. The first includes about 1,600 early photos of anonymous traditional musicians from around the world with their instruments, from daguerrotypes, albumen prints, and "cartes de visite" to postcards and early archival photos. The second includes 500 early photos of bagpipers with their regional variety of bagpipes from countries including Estonia, Armenia, Austria, Russia, Macedonia, India, Serbia, Libya, Poland, Sudan, and Portugal. The finding aid to these materials may be found on the Online Archive of California (OAC).
The record catalog collection (1910–1960) includes 130 catalogs of special series such as Polyphon Disques Arabes; HMV East African Records; Catálogo Numerical de Discos Victor Argentina; Parlophone Javanese Records; Zarzuelas Impresionadas por La Voz de Su Amo; Odéon Katalaogy Malagasy; Beltona Scottish & Irish Records; Cairophon; Victor Catalogue of all Languages; Zonophone Numerical List: Gujarati, Marathi, Hindustani, Sindhi, Jain; Odeon Repertório Portugués; Greek, Turkish, Armenian, Spanish-Oriental Records; Discos Mexicanos Vocalion; Slovenskych Rekordov; La Voix de son Maître Disques Espagnols et Sardanes; Columbia Maori Records; Pathé Répertoire Tunisien; and Columbia Punjabi, Bangri, Nepali.
Sound recordings in the Häupl collection are currently being cataloged. Cylinder recordings are being cataloged and digitized through the UCSB Cylinder Audio Archive and 78rpm discs are being cataloged and added to UC Library Search. Digital copies can be requested through a Special Collections Research Account.
An inventory of the photographs and other paper materials in his collection is available through the Online Archive of California.
For more information on the collection or assistance in using the materials, please contact Special Collections staff at special@library.ucsb.edu.