Guide to the Samuel L. Williams Papers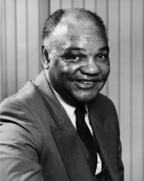 Samuel L. Williams was a prominent attorney who distinguished himself as a leader in the legal community. He was prominent in Los Angeles civic affairs, and was an individual who was committed to social justice and civil rights. He was the first African American to serve as president of the California State Bar. He was a member of the boards of several prominent corporations, was president of the Los Angeles Board of Police Commissioners and had served as president of the Los Angeles County Bar Association. 
Williams was staff attorney for the McCone Commission, the Governor's body that investigated the 1965 Watts riots in Los Angeles. Several decades later, Williams was on the Los Angeles Board of Police Commissioners in April, 1991 at the time of the inquest involving the Rodney King beating in Los Angeles. Williams is credited with helping change the face of the judiciary in California through his role as chair and as member of nominating commissions for judicial selections in the federal bench in this state. Williams' civic contributions included serving on the boards of the Walt Disney Co., the Bank of California, the Los Angeles Music Center, USC, and several other organizations.
Williams was a star athlete while attending U.C. Berkeley, where he played a quarterback on the football team and played baseball while also being named an Academic All- American. After graduating with a B.A. in criminology in 1955, Williams performed military service in the U.S. Army (1955-57) and held the rank of First Lieutenant in the Military police Corps. He later earned the LL.B. from the University of Southern California School of Law in 1961. From 1962 to 1965 Williams served as Deputy Attorney General in the State of California Department of Justice. He entered private practice with the law firm of Hufstedler & Kaus in 1965 where he was a senior partner before retiring in 1990. Williams died in July 1994.
Williams had a long commitment to the principle of equal justice. His honors included the Maynard Toll Award for lifetime service to the Los Angeles Legal Aid Foundation, and the Los Angeles county Bar Association's highest tribute, the Shattuck Price Award. The State legislature honored him with a memorial resolution "for his illustrious record of professional, personal, public and civic achievement."
Samuel Williams' papers were deeded to the California Ethnic and Multicultural Archives on February 27, 1995. The collection represents the Southern California attorney's civic work, speeches, and correspondence that will be of great value to scholars studying Los Angeles urban life and civic affairs, legal issues, corporate relations, and race relations.
A preliminary guide to The Samuel L. Williams Collection is available onsite at Special Collections or upon request.