Guide to the Linda Vallejo Papers
Essays on "Los Cielos / The Heavens"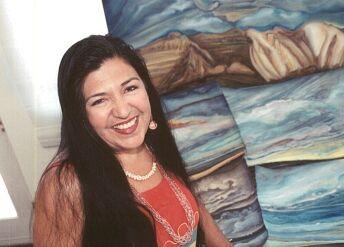 Linda Vallejo is an acclaimed Chicana painter, sculptor, printmaker, and founder of Galeria Las Americas. Linda Vallejo's personal collection was established in CEMA in 2001. Her collection represents a broad spectrum of her work and includes photographs, slides, posters, correspondence, publications and ephemera.
Vallejo was born in East Los Angeles and was a graduate of Whittier College and also studied lithography at the University of Madrid. Vallejo received her MFA degree from California State University, Long Beach in 1978. Born into a military family, Vallejo's father served as a colonel in the Air Force and as a diplomat and she consequently spent much of her growing up years traveling with her family throughout the United States and Europe. At the young age of seven, Vallejo had already determined she wanted to go to college and become an artist. In the early 1960's Vallejo was in Montgomery, Alabama at a volatile time that the public schools were just being integrated, and the riots and violence affected her deeply.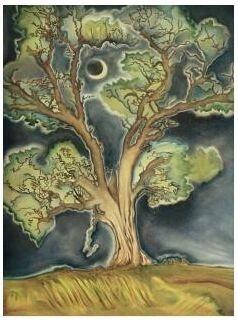 Vallejo has worked in printmaking and sculpture but her present medium of choice is in painting. Vallejo describes herself as "an indigenous Chicana" and as such, her work is highly symbolic and allegorical and is infused with Native American, Mexicana, and Chicana spiritual traditions.
My artwork revolves around my dual experiences as a woman and a Chicana living in the twenty first century and studying the ancient indigenous traditions of Mexico and the Americas. I have worked to discover woman in her modern and ancient place as a source of strength, love, and integrity. I believe that all women are a part of the earth and can be inspired by a relationship with and through nature. It is my firm belief that woman is the symbol of the earth and that each woman can learn aspects of loyalty, integrity, honor, generosity, and courage directly from the earth." Artist's statement from Latina/o Art Community, a world-wide website for Latina/o art .
Writer Susan Suntree asserts, "Suggestive of the Chinese image of yin/yang that symbolizes the simultaneous, interpenetrating powers of activity and receptivity, darkness and illumination, Vallejo's "Sacred Oaks: Moonlight," portrays the motion of light and energy as it moves from inside to outside. Rather than depicted through a detailed realism, the tree nearly vibrates with its own vital energy. Moonlight would seem to affirm the tree except that the tree also radiates light into the night sky making it a compatriot in the work of illumination."
The publication, Contemporary Chicana and Chicano Art: 2002 (Bi-Lingual Press, Hispanic Research Center, Arizona State University) states, "Vallejo's significant impact originates in her distinctive ability to reconcile diverse influences of indigenous pre-Hispanic culture with a well-grounded art historical exposure. Her work exhibits a confidence and passion engaging the viewer in a rumination that is directed without depending on polemics. Vallejo's subjects move beyond mundane rhetoric with a stylistic maturity that undermines the reason of the political. Tangible and inevitable, the work of this artist sacrifices the abstract notion for the specific struggle, effectively replacing debate with responsibility. This is achieved by the successful orientation of the viewer in an erudite consideration of urbanism in decline and the imperiled position of those in its wake. For a population of Chicanos increasingly situated in the cityscapes of America, Vallejo's work is an expansive statement on the real threats challenging her community."
For more information see Linda Vallejo.com.