Music Maestro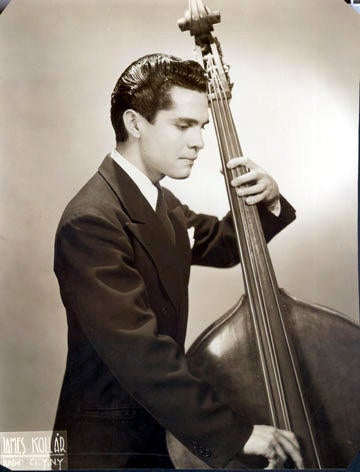 Latino music lovers will want to learn about the life work of music master Don Tosti (Edmúndo Martinez Tostado) whose long career is documented in recordings and papers that now are being preserved and made accessible in CEMA.
Don Tosti is a musician, composer, band and orchestra leader whose illustrious career has spanned seven decades. He rose above his humble origins in El Paso's hardscrabble egundo barrio, becoming a child prodigy at 9 years of age and playing second violin with the El Paso Symphony Orchestra. Following a move to East Los Angeles at the age of 15, he began playing saxophone first, then the bass, and formed his own swing band. He attended Roosevelt High School, becoming concertmaster for the All-City high school orchestra. His growing prowess on the string bass took him through a star-studded musical career as a jazz player with legends such as Jack Teagarden, Jimmy Dorsey, Bobby Sherwood, Les Brown and Charlie Barnett.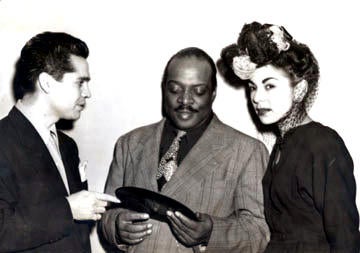 As a bandleader and orchesta leader during the 1950's Don Tosti made many recordings and had his own television show "Momentos Alegres" ("Happy Moments") on KHJ-TV Channel 9 in Los Angeles. Don Tosti encouraged and influenced other musicians who would become greats, including Eddie Cano and Manny Lopez. In 1963 he married starlet and model Ruth Lila Margulies and together they made a life in Palm Springs where he continued writing music, entertaining at clubs, and operating his own music agency. In 1999 the City of Palm Springs honored him with his own star on the "Palm Springs Walk of the Stars."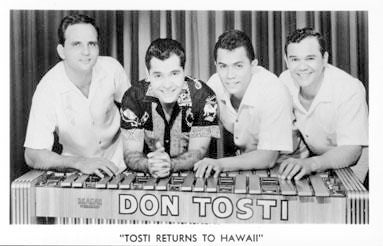 Don Tosti's musical genius can be appreciated as much through his bold and innovative compositions as with his stylish close-harmony ballads of more traditional forms. Don Tosti is a progenitor of modern Chicano music. In 1948 Tosti's energetic "Pachuco Boogie" opened a new chapter in American music. He, along with Lalo Guerrero, pioneered in creating the sub genre of post-war Mexican American jump blues and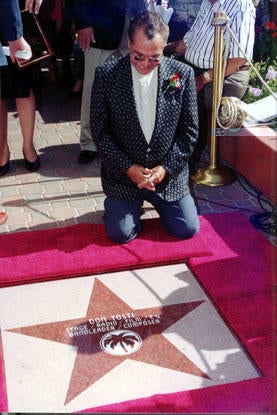 made history by inaugurating a new era in Mexican American music. Tosti and Guerrero thus laid the foundation for the evolution of Chicano rock music. Don Tosti's "Pachuco Boogie" and his experimentations with "Chicano Boogie" and other jump tunes infused boogie-woogie with a distinct Mexican style and Pachuco vernacular.
Don Tosti's reputation as a master of music can be seen also through his compositions and arrangements for luminaries in the entertainment field. This included writing music for Hoagy Carmichael during the last thirteen years of his life and writing music and arrangements for Lalo Guerrero, himself a living legend and known as the "father of Chicano music."
Don Tosti 's 2004 decision to establish his papers in CEMA will ensure the continuation of his legacy by preserving his important work for future generations and to promote scholarship in the history of Mexican American music. The collection includes historical documents, photographs, sheet music and lyrics, recordings, scrapbooks, broadsides, correspondence and ephemera. The collection will carry on Don Tosti's ideals of inspiring younger generations to gain a deeper appreciation of their own rich cultural heritage, that they may follow his example. His advice: ¡El que quiere, puede! "One can indeed acquire great abilities. Practice!"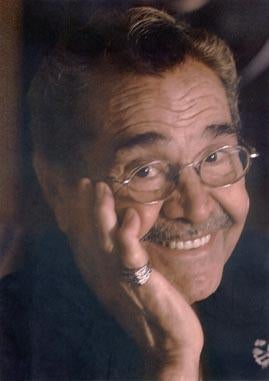 Don Tosti's music is being re-discovered. Arhoolie Records produced a compilation entitled "Pachuco Boogie" that includes nine of Don Tosti's songs, as Vol. 10 of its "Historic Mexican-American Music" series. Ry Cooder's forthcoming compilation "Chavez Ravine: a Los Angeles Story" will also include Don Tosti's music.
In keeping with Don Tosti's wishes a musical sampling is provided here for your listening enjoyment, including three of his hits, "Pachuco Boogie" (Taxco Recording Co., Los Angeles, CA., 1948), "Vine por Ti" ("I Came for You", bolero, America Records Co., 1949), "Guisa Guaina" ("Wino Girl", Tradition Music CO., BMI, Los Angeles, 1948).
Music selections
Pachuco Boogie |  Vine por Ti | Guisa Guaina | Black Satin
Televised special
Don Tosti: Music Maestro - Part 1 | Part Two
Alan Kelley, KRON 4 "Latin Eyes". San Francisco CA. Originally broadcast September 1, 2002.