Guide to the Rini Templeton Papers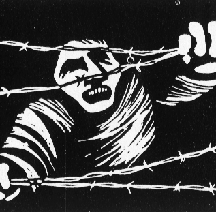 CEMA is now the official repository for the work of the late Rini Templeton, a prolific graphic artist and sculptor. Templeton's work is known well through the many images she created to support the Chicano civil rights movement. She devoted her life to poor peoples' and labor movements, as well as other socially progressive mass movement causes throughout the Southwest as well as Mexico, Cuba, and Central America. Templeton was an artist who passionately opposed racism and exploitation aimed at Blacks, Latinos, Native Americans and other minorities. Her work was not limited to the drawing board, though--she lived and breathed her causes; her art was inextricably linked to her unflagging political activism.
Templeton identified with the Chicano struggle and created many graphic images during the1960s and early 1970s that were widely used in the Movement. Beginning in 1967 she fought for causes including Chicano leader Rodolfo "Corky" Gonzalez' Crusade for Justice organization in Denver and Reies Tijerina's land grant movement in New Mexico. The fruits of her labor included various Chicano publications through her association with the Chicano Communications Center. Her countless Center projects include the landmark 450 Years of Chicano History/450 Años del Pueblo Chicano. She was no stranger to libraries--she assisted Oakland librarian Zoia Horn by visually crafting a powerful traveling mini-expo "The Right to Know" that was inaugurated at a conference of the California Library Association and traveled to libraries in the state. She was staff artist of El Grito del Norte, a New Mexico periodical committed to social justice, and many of Templeton's illustrations addressed the land struggle in Tierra Amarilla, New Mexico.
Templeton also worked closely in Taos with her novelist friend and confidant John Nichols (The Milagro Beanfield War); together, they produced the New Mexico Review that Nichols describes as a progressive, muckraking journal. Mexico's long-established tradition of graphic art for the people attracted Templeton and it was there that she made her home from 1974 until her untimely death in 1986. It was in Mexico that Templeton produced Punto Critico, considered the oldest leftist magazine still being published in Mexico. Her last major effort prior to her death was to ensure decent housing for the thousands of poor people left homeless following Mexico City's devastating earthquake in 1985. In 1987 one of the new housing complexes built as a result of her efforts in the hardest-hit neighborhoods now carries her name. Templeton's legacy also is carried on by the Rini Templeton Center for Graphic Art Documentation in Mexico City, and now by the Rini Templeton Collection in CEMA.
"I make images . . . People's art--perhaps I do aspire to that because people's art would be art that comes from the people and returns to them. Art that is nourished by the traditions, the daily life, the struggles of the people, and returns to become theirs" (Rini Templeton)