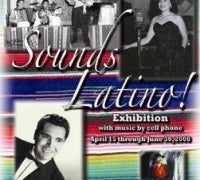 Tue, 04/15/2008 - 8:00am

to

Mon, 06/30/2008 - 5:00pm
Exhibition
Location:
Special Research Collections
This exhibit recognizes some of the legendary music makers whose collections were established in CEMA. It traces the genesis and evolution of Chicano and Latino music through the past seventy years. The Bolero, the Mambo, the Corrido, Swing, Boogie, Tex/Mex-are all woven into the fabric of the Latino cultural heritage. These include Lalo Guerrero, often called the "Father of Chicano Music, Don Tosti, known as the "Godfather of Latin Rhythm and Blues," and Adelina García, fondly remembered as the "Queen of the Mexican Bolero." The exhibit shows how these artists were masters of cultural innovation as well as musical adaptation.
The exhibit engages the senses through the visual and theater arts, as well as music. Take a minute to listen to The A Train, which Tito Puente re-casts as Tren Expreso set to a mambo beat. Through the first-time use of Guide by Cell in an exhibit here, visitors can use their cell-phones to listen to the music, including historic 78 rpm disks reformatted for use in this exhibit. Interpretive texts, photos, artifacts, and historical documents from these collections round out the displays.
The exhibit highlights through the graphic arts renowned singers and groups whose collections are not housed in CEMA but whose iconic cultural status is visually represented in CEMA's voluminous silkscreen archives. Included are those of Self-Help Graphics & Art as well as the Royal Chicano Air Force. Chicano artists such as Ester Hernandez and Willie Herron created beautiful fine art prints about personages such as Lydia Mendoza, famously known as The Lark of the Border, and of the Chicano punk rock groups The Brat and Los Illegals.
CEMA collections include selections of music by Tito Puente, Tito Rodríguez and Perez Prado, who became recording stars in the early 1950s. Also included are 1950s singing star Ritchie Valens, whose life was depicted by writer/director Luis Valdez in the Hollywood film, La Bamba, and the Chicano rockers, Malo. The papers of Valdez and the archives of the theater company he founded, El Teatro Campesino, are replete with the richness of Latino music traditions, from Corridos to Zoot Suit, also displayed in the exhibit.
This exhibit is not a comprehensive survey of Latino music and not all the genres are represented; however, what is evident here are the remarkable accomplishments of memorable music makers whose talents and achievements earned them a treasured place in Latino music history.